Through its new Data Grants program, Twitter is opening its archives to academics who want access to the data — and it's all free. The data goes back to 2006, and social scientists and researchers can submit applications until March 15th to request access to old tweets. Until now, Twitter has only made this data available to partner companies for a fee starting at $500 a month. Twitter previously worked with Johns Hopkins University to predict where flu outbreaks will hit; this project hopes to make similar research possible.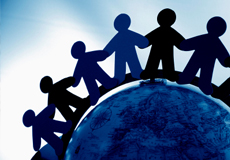 In the past, researchers have had a hard time accessing this kind of data, according to Wired. The article notes that Facebook, for example, shares its data with a few select researchers, but most people can't access it. For Twitter's archives, brands will still have to pay the usual fees, but academics are granted special access.
"You've got potentially the largest data set on human interaction ever," Devin Gaffney, a developer at tech startup Little Bird, told Wired last year. "It will be biased towards people who are on the Internet, but it's still better than before. Plus, it's less work. You don't have to talk to 10,000 people. You just write some code to do it for you."
What has yet to be made clear by Twitter is whether researchers will be able to share data sets with one another for peer review, though based on the terms and services for the Twitter API, it seems unlikely they'll be allowed to republish their findings.
"The lack of peer review can make it hard to evaluate the data studies published by social media companies themselves," Wired says, noting that the verification of findings is a "key part of doing science." Still, the article adds, some data is "far better" than no data.
Topics:
Academia
,
Access
,
API
,
Archive
,
Brand
,
Code
,
Communication
,
Connect
,
Connected
,
Data
,
Facebook
,
Flu
,
Free
,
Gaffney
,
Grants
,
Hopkins
,
Human
,
Interact
,
Interaction
,
Johns
,
Little Bird
,
Network
,
Peer
,
People
,
Program
,
Research
,
Researcher
,
Review
,
Scientist
,
Set
,
Share
,
Sharing
,
Social
,
studies
,
Study
,
Subject
,
Team
,
Tweet
,
Twitter
,
Wired