Twitter is leveraging last year's acquisition of music discovery service We Are Hunted to build a standalone music app. Twitter Music could be released on iOS as early as the end of this month, suggest insiders. The service will reportedly recommend artists and songs based on the accounts a user follows on Twitter. The music will be streamed to the app via SoundCloud.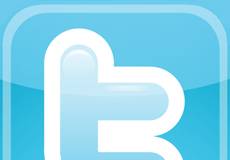 "Twitter Music, which is set to arrive in the wake of key competitor Facebook overhauling the music section of its News Feed, shows Twitter taking new steps into becoming a full-fledged media company," reports CNET. "The app acknowledges the key role music has played in drawing new users to the service — particularly younger, mainstream users."
"Unlike Vine, the video sharing app that Twitter released in January, the music app carries Twitter branding," notes the article. "The app's icon consists of a silver 'play' button with the familiar blue Twitter bird looking down on it from the corner."
Twitter Music will use four main tabs. The first one is "Suggested," which recommends songs and artists based on a user's follower graph. The "#NowPlaying" tab brings in links to songs tweeted by people you follow who tweet using that hashtag. The "Popular" tab brings in songs trending on We Are Hunted, and the "Emerging" tab tracks up-and-coming artists.
"The question for Twitter will be whether a groundswell of users find the app useful enough to displace the existing options for music discovery, which are numerous and popular," writes CNET. Pandora has more than 67 million active users and Spotify has more than 24 million. Facebook is making music a central focus of its News Feed redesign and Google is seeking to build a subscription service of its own.
Topics:
Facebook
,
Google
,
Launch
,
Music
,
Music Streaming
,
News Feed
,
Pandora
,
Redesign
,
Spotify
,
Streaming
,
Twitter
,
Twitter Music
,
Vine
,
We Are Hunted