TSMC (Taiwan Semiconductor Manufacturing Company) is reporting first quarter 2022 revenue between $17.6 billion and $18.2 billion, a 35.5 percent increase year-over-year. Compared to Q4 2021, the first quarter results represent a 12.1 percent revenue uptick and 22 percent growth in net income. This, despite ongoing fallout from supply chain shortages that company CEO C.C. Wei says he expects will continue triggering production constraints. Russia's invasion of Ukraine and the COVID-19 lockdown in Shanghai, where the company has a plant, were cited as the most significant stressors to the company's semiconductor output.
Suppliers to TSMC continue to struggle with labor and component constraints, and the company's equipment suppliers have had problems delivering tools beginning in 2022, Wei told investors and analysts, adding that "the company's production capacity is not enough to support our customers,'" according to The Wall Street Journal, which said the dire news was set against "both record quarterly revenue and profit in the first quarter."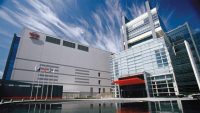 TSMC customers include Apple, Nvidia, Qualcomm and AMD. "In the January-March quarter, TSMC posted net profit of 202.73 billion New Taiwan dollars, equivalent to about $7 billion, up 45 percent from the same period last year, driven by strong demand for chips used in high-performance computers" and self-driving cars, an increase of 36 percent, according to WSJ, which says the company predicts "this sector is likely to become the biggest contributor to TSMC's revenue this year and beyond."
Meanwhile, TSMC reports that growth is weakening for consumer electronics chips, such as those used in smartphones and personal computers. "TSMC is scheduled to debut its most advanced chip-making technology in the second half of this year," WSJ said, citing analysts naming Apple and Intel as among the first customers. "Lavish spending" on the advanced chip technologies will likely be offset by TSMC's 2021 chip-price hike, per WSJ.
Bloomberg says in Q1 2022 TSMC was earning about 10 percent more per wafer compared to Q4 2021. Although its top-of-the-line offering — the 5nm node — has had a modest overall sales decline since the prior quarter (accounting for about 20 percent of revenue, down  from 23 percent), Bloomberg shrugs-off the slump, because "Apple is the largest buyer of these chips for its iPhones, and the March quarter is a lull in the annual smartphone cycle."
What Bloomberg called a "slightly older, but still very advanced, 7nm product" helped propel TSMC's high performance chip sector — which includes those used for artificial intelligence and advanced graphics — to what the news outlet characterized as a 20 percent increase and record sales.
Topics:
AMD
,
Apple
,
Artificial Intelligence
,
Autonomous Vehicles
,
C.C. Wei
,
China
,
Chips
,
Computers
,
Consumer Electronics
,
COVID-19
,
Graphics
,
Intel
,
iPhone
,
Manufacturing
,
Mobile
,
Nvidia
,
Qualcomm
,
Russia
,
Self-Driving Cars
,
Semiconductors
,
Shanghai
,
Smartphones
,
Supply Chain
,
Taiwan
,
TSMC
,
Ukraine