Nearly 37 percent of the world's population has never used the Internet, according to the United Nations. That's about 2.9 billion people yet to experience the technology most of the other 63 percent now take for granted. But many feel the Internet is ready for its third act, Web3 (also known as Web 3.0). Companies trying to figure out what Web3 means for their business models are not helped by the fact that there is dissent as to what it will be. Decentralized, relying on blockchain, connected to the metaverse are among the themes being discussed. Although there's a lot being written, it's all rather fuzzy at this time.
"The answers are taking the form of services and apps that are the first outlines of what their creators hope will someday eat the Internet completely: a distributed, democratically ruled 'Web 3.0' or 'Web3' that will rise like a phoenix of 1990s-era Web 1.0-idealism from out of the ashes of the corporation-controlled Web 2.0 that all of us currently inhabit," writes a columnist in The Wall Street Journal.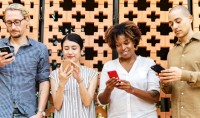 If Web 1.0 revolved around FTP and CompuServe, then starting in the mid-2000s there was a Renaissance of sorts, as Web 2.0 brought ease and order with the emergence of Google, Amazon, Facebook and YouTube. Over time, politicians and critics have come to feel those companies have gained too much power. "Web3 is about grabbing some of the power back," writes NPR.
"There's a small group of companies that own all this stuff, and then there's us who use it, and despite the fact that we contribute to the success of these platforms, we don't have anything to show for it," New York University instructor Mat Dryhurst tells NPR, which describes Web3 as "an iteration of the Internet where new social networks, search engines and marketplaces crop up that have no company overlords."
Decentralized seems to be the one model that most agree upon. "New technologies like blockchain present the opportunity to loosen the centralized stranglehold that companies and governments have over everything from Internet platforms to intellectual property to the creation and distribution of money," WSJ notes.
The irony, as CNBC writes, is that "large companies and investors with deep pockets are raving about Web3." Kind of like the wizard behind the curtain, all that raving has arguably become a self-propulsion mechanism for Web3.
Tesla, PayPal and Meta "have taken the plunge into crypto lately," CNBC reports, to which list it could add Twitter co-founder Jack Dorsey, CEO of Block (formerly Square) and Silicon Valley venture capital behemoth Andreessen Horowitz.
But, CNBC points out, "there's a disconnect between how tech and finance industry professionals view crypto and the perception of the technology from the general public." And no shortage of Web3 skeptics.
UK codesmith and essayist Steven Diehl, who the WSJ article calls "one of Web3's most visible and cogent critics," wrote in a recent blog piece that today's popular vision of an Internet 3.0 is "a false narrative about disruption," adding that "on a compute basis, blockchain networks don't scale except by becoming the very same plutocratic and centralized systems they allegedly were designed to replace."
Related:
Jack Dorsey Stirs Uproar by Dismissing Web3 as a Venture Capitalists' Plaything, Bloomberg, 12/21/21