Canadian wearables startup Thalmic Labs, which has rebranded itself as North, unveiled its second product — holographic smart glasses dubbed Focals. The wearable features lenses with a built-in display that shows the user messages, weather forecasts, directions and more information from the smartphone, and allows the user to call on Alexa to order an Uber and get calendar notifications among other tasks. Two years ago, North raised $120 million from Amazon's Alexa Fund, Intel Capital and Fidelity Investments Canada.
VentureBeat reports that, "Focals connect via Bluetooth with Android and iOS devices, but they also require an additional piece of hardware that North is calling Loop — a little ring that you wear on your finger that lets you interact with the glasses by clicking." The computer is integrated into one of the temples, "with a little retinal projector protruding from the side."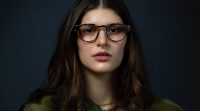 Focals also have a built-in mic to allow users to ask Alexa questions. The answers are displayed "directly in your field-of-vision or broadcast via a little speaker." North opened preorders for Focals for $999, available in two styles (classic and round) and three colors (black, tortoise and gray).
Because Focals are custom-built, the buyer will have to visit one of the company's two showrooms, in Toronto or New York City. "Eyewear is incredibly personal — when you buy glasses, you're weighing a combination of fit and personal expression to find the perfect pair for you," said North chief executive/co-founder Stephen Lake. "That process is very much at odds with how consumer electronics are built and sold today."
According to Lake, Focals will last 18 hours on a single charge under "standard use," and Loop will last "considerably longer." Lake also revealed that he and his team focused on smart glasses because of their "experiences with the Myo armband." One of its "proposed use cases was integration with third-party smart glasses such as Google Glass, with the armband used to control on-screen information in industrial settings."
The Myo armband is no more; "Thalmic Labs often found the experience to be sub-par, which is partly why it shifted focus to improving smart glasses as an interface."
Amazon also developed a "custom Alexa experience" for smart glasses, which debuted in AR glasses Blade from Vuzix. Last week, Vuzix launched Blade AR glasses into the consumer market, although it's not clear if Alexa will be integrated.
Topics:
Alexa
,
Alexa Fund
,
Amazon
,
Android
,
Blade
,
Bluetooth
,
Canada
,
Consumer Electronics
,
Fidelity Investments
,
Focals
,
Google Glass
,
Holographic
,
Intel Capital
,
iOS
,
Loop
,
Myo
,
North
,
Retinal Display
,
Smart Glasses
,
Smartphone
,
Stephen Lake
,
Thalmic Labs
,
Uber
,
Vuzix