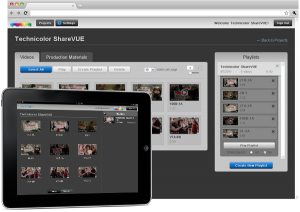 Technicolor announced its next-generation secure, cloud-based dailies solution for film and television studio clients. According to the press release, ShareVUE enables remote viewing, collaboration and sharing of dailies content on HTML5-supported web browsers, iOS and Android devices. Technicolor explains it is working with the Squeeze Solution Pack encoding technology from Sorenson Media to implement cloud-based scalability.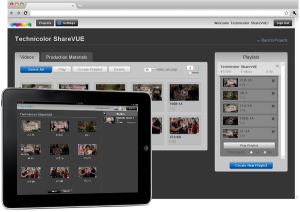 ShareVUE features include:
— A central hub to remotely view production materials while sharing time-stamped comments and playlists.
— A single encode that is transcoded and optimized "behind-the-scenes" to maximize visual quality for each supported device.
— Streaming-only model ensures media security, and includes content protection protocols combined with link encryption protocols, content scrambling and dynamic watermarking techniques.
Related Variety article: "Technicolor, Canon pact for cinematographers" (4/5/11)