A 13-year bull run in technology startup investments has come to a halt, according to recent reports that describe a new climate of layoffs and skepticism that has resulted in valuations dropping and an exodus of funds. Rising interest rates, a palliative against 8 percent-plus inflation, have affected the investment outlook, making startups and private tech companies look overpriced. Even established public tech firms are affected, with Meta Platforms and Amazon dropping more than 30 percent this year, while Apple, Microsoft and Alphabet have logged 20 percent declines. Netflix has fallen by 69 percent.
While the market overall appears to be moving toward a bear posture — "the S&P 500 is down 16 percent since the start of the year, and the Nasdaq Composite Index is off by more than a quarter from its high in November," writes The Wall Street Journal. The tech sector appears to be feeling the brunt of the pain, a soaring recent past, followed by an Icarus-like fall.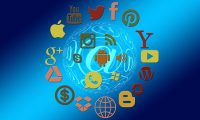 CNBC reports that "total losses among tech companies' equity holdings topped $17 billion for the first three months of the year," with Amazon, Uber, Alphabet and Shopify each posting "billion-dollar-plus losses on equity investments in the first quarter," and listing Snap, Qualcomm, Microsoft and Oracle also taking hits during the period.
WSJ characterizes the situation as "a correction," following $1.3 trillion invested in startups this past decade, "producing hundreds of companies annually that attained billion-dollar-plus valuations" through financing from foreign governments and hedge funds.
"Venture-capital funds raised $132 billion to invest in startups in 2021, nearly double the amount from 2019 and six times the total raised a decade ago, when the number of funds was about a third of what it is today," WSJ reports citing PitchBook Data that says in Q4 "venture capital investments reached a record $95 billion," a sum WSJ writes is "too much money to deploy effectively or wisely, some investors say."
During that period, software startup valuations hit multiples of about 100 times annual recurring revenue, "roughly 10 times the historical norm for companies in that industry, according to data from venture-capital firms," WSJ writes.
Even established companies like Meta, Uber and Twitter have in recent months moved to cut costs, as their stocks are being dumped. Yahoo Finance reports the Light Street hedge fund recently sold all 149,025 of its shares in Meta and "almost halved its stake in Google-parent Alphabet" while also shedding 10 percent of Amazon.
"Tiger Global Management, Winslow Capital Management, and Scopus Asset Management were among funds that sold all of their shares of streaming company Netflix before the company reported its first loss of subscribers in over a decade," Yahoo adds, describing an environment in which "fund managers reassess large technology companies which rallied following the start of the coronavirus pandemic in 2020 and helped power the benchmark S&P 500 to record highs."
Topics:
Alphabet
,
Amazon
,
Apple
,
Facebook
,
Google
,
Hedge Fund
,
Investments
,
Light Street
,
Meta Platforms
,
Microsoft
,
Nasdaq
,
Netflix
,
Oracle
,
PitchBook Data
,
Qualcomm
,
S&P 500
,
Scopus Asset Management
,
Shopify
,
Snap Inc.
,
Startup
,
Tiger Global Management
,
Twitter
,
Uber
,
Venture Capital
,
Winslow Capital Management