Screenwriter and director Quentin Tarantino is suing online media publisher Gawker Media LLC and the website AnonFiles.com for over $1 million for copyright infringement. Tarantino filed the complaint on Monday after Gawker and AnonFiles.com posted an online copy of "The Hateful Eight," written by Tarantino. The filmmaker said he was depressed the screenplay had been leaked, and is cancelling all plans to develop the script as his next project.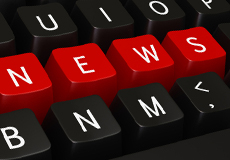 According to The Wall Street Journal, "The complaint says that Mr. Tarantino's representatives made repeated demands that AnonFiles.com take down the script and that Gawker take down links in an item titled, 'Here is the Leaked Quentin Tarantino Hateful Eight Script.'"
Gawker reportedly never removed the links from its website, and AnonFiles took the script off, and then reposted it.
Although AnonFiles.com is a website that allows anonymous people to share and upload files, it has a notice that says it "does not allow illegal content to be uploaded," reports WSJ.
In addition to AnonFiles and Gawker, the lawsuit names nine anonymous individuals who were supposedly involved with directing people to the script online or posting it themselves. The lawsuit also asks for punitive, statutory, and exemplary damages on top of the $1 million in damages.
Topics:
AnonFiles
,
Complaint
,
Copyright
,
Direct
,
Director
,
Film
,
Filmmaker
,
Gawker
,
Gawker Media
,
Hollywood
,
Illegal
,
Infringement
,
Law
,
Lawsuit
,
Legal
,
Link
,
Motion Picture
,
Movie
,
Online
,
Producer
,
Publish
,
Publisher
,
Quentin
,
Screenplay
,
Screenwriter
,
Script
,
Share
,
Sharing
,
Site
,
Suing
,
Television
,
The Hateful Eight
,
TV
,
Upload
,
Uploaded
,
Wall Street
,
Website
,
Writer