One year ago, New York startup Entrupy introduced a technology based on a handheld microscope camera and mobile app to spot counterfeit fashion accessories. Since then, the company says it has improved accuracy to 98 percent for handbags from 11 luxury brands, including Chanel, Gucci and Louis Vuitton. The tech has also been tested on CE products. Fashion brands have thus far used holographic tags, microprinting and, more recently, radio beacons woven into fabric to protect their products against counterfeiting. Internet shopping and second-hand retailers have made it more challenging.
Bloomberg reports that, according to researcher Visiongain, "apparel makers will spend $6.15 billion on anti-counterfeit technologies in 2017." Fordham University Fashion Law Institute director Susan Scafidi notes that shoppers knew that luxury brands weren't sold on street corners.
"But now, with so much legitimate and illegitimate commerce occurring online, it is very difficult for consumers to tell the difference," she said. Last year, the International AntiCounterfeiting Coalition (IACC) suspended Alibaba, China's biggest online retailer, "amid criticism that it and other e-commerce marketplaces weren't doing enough to cull fakes."
Online stores that sell second-hand goods, such as TheRealReal and Vestiaire Collective, "use experts with years of experience to determine the authenticity of the goods they buy and sell," a process that isn't foolproof. Entrupy's camera reportedly "magnifies objects 260 times," making it much easier to spot "telltale signs" of fakery.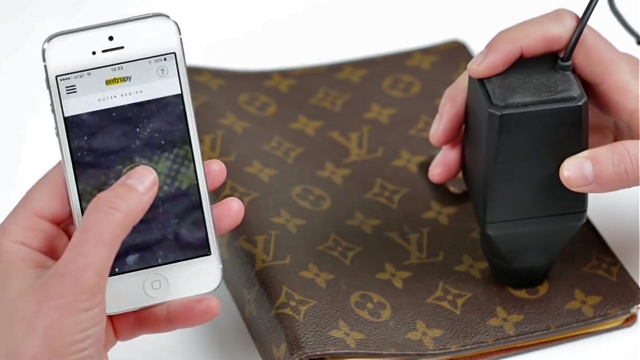 The camera "can be leased for an initial fee of $299," with monthly plans that start at $99, and has been used by 160 businesses, "including pawn shops, wholesalers and online retailers."
According to Entrupy co-founder Vidyuth Srinivasan, "a breakthrough in algorithms at a science competition called ImageNet vastly improved the ability of machines to identify everyday objects in photographs by using massive data sets to find patterns." Entrupy, with help of angel investor Yann LeCun, Facebook's director of AI research, "started with a hunch that computers could be trained to look at pictures of luxury goods and extract a kind of genome, an essence of, say, a Fendi or an Hermes handbag."
Deep learning, however, requires "tons of data," which they didn't have. Instead, the team "convinced several New York second-hand shops to give them access to their inventories," and one co-founder brought a suitcase of knock-offs from China. The Entrupy database "now has tens of millions of photographs from about 30,000 different handbags and wallets."
The company still has "no relationships with any of the fashion brands whose products they authenticate," since luxury manufacturers "prefer not to acknowledge that there is a second-hand market for their merchandise." In July, Entrupy raised $2.6 million, led by "a venture between Tokyo-based Digital Garage and Daiwa Securities Group."
Srinivasan says the investment will allow them to "design a faster and more portable camera and add more brands" to its database. He adds that, although it doesn't work on diamonds and porcelain, "because those are refractive and we use optical analysis," the device has been tested on "auto parts, phones, chargers, headphones, jackets, shoes, even crude oil."
Topics:
Alibaba
,
Chanel
,
Counterfeit
,
Daiwa Securities
,
Deep Learning
,
Digital Garage
,
Entrupy
,
Facebook
,
Fashion
,
Fendi
,
Fordham
,
Gucci
,
Hermes
,
Holographic Tags
,
IACC
,
ImageNet
,
Louis Vuitton
,
Microprinting
,
Microscope Camera
,
Radio Beacons
,
Susan Scafidi
,
TheRealReal
,
Vestiaire Collective
,
Vidyuth Srinivasan
,
Visiongain
,
Yann LeCun