There has been some debate regarding whether certain technologies have negatively impacted live sports. With the mass adoption of smart devices, many people are now opting to stay indoors. However, new technologies and mobile connectivity are aiming to lure more people into the stadium to chant for their favorite team without the need to miss a single moment. High-tech stadiums are introducing new apps and second screen features to offer fans an enhanced experience.
Levi's Stadium in Santa Clara, new home for the San Francisco 49ers, is set to open for next year's season. Among other tech upgrades, it plans to allow attendees to download a smartphone app to check the wait times at concession stands and nearby men's and women's restrooms.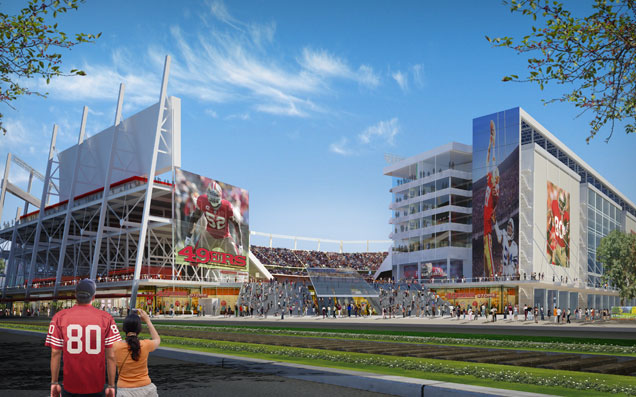 "The 49ers understand the live experience has lost its luster, and they are delivering services they hope will close that gap," explains BleacherReport. "But really, the most important factor in all this is the fact that a fan will not have to miss a snap because of a sudden hankering for a domestic brew or need to hit the restroom."
Doug Garland, GM of stadium experience and technology for the 49ers, is exploring options to monitor traffic based on wireless signals from people's mobile phones in a particular area, similar to many mapping services that predict road traffic. They have teamed up with Micros Systems, which makes the point-of-sale systems used throughout the stadium, to connect the cash registers to the cloud.
In May, Sports Illustrated reported on the stadium plans: "What the team hopes will really differentiate the park — and what could serve as a model for new stadiums in every sport — is the embedded tech: stadium-wide Wi-Fi capability, mobile connectivity, IPTV, 13,000 square feet of video board and connection speeds that won't disappoint Silicon Valley's technology elite."
"To lure fans away from the living room TV, some high-tech franchises are offering a richer 'second screen' for live sports," reports Bloomberg. "In addition to team stats, apps from the 49ers, Nets and Sporting Kansas City let those attending games view exclusive live video feeds or replays. The latter two teams were among the first to do this by using a product from Cisco Systems called StadiumVision Mobile, which allows viewers to switch camera angles and rewind the action."
Systems such as GoalRef and Cairos place invisible magnetic fields around the goal. The system detects a small chip inside the ball when it crosses the goal line and transmits a signal to wristwatches worn by the refs in less than a second.
As previously reported on ETCentric, the World Cup in Brazil will implement goal-line tracking, provided by Germany-based GoalControl, which places seven high-speed cameras pointed at each net to detect when the ball has crossed.
Topics:
49ers
,
App
,
Bathroom
,
Brazil
,
Cisco
,
Cloud
,
Events
,
Food
,
Franchise
,
Garland
,
GoalControl
,
GoalRef
,
IPTV
,
Kansas City
,
Levi's
,
Lines
,
Live
,
Micros
,
Mobile
,
Nets
,
Park
,
Phone
,
Restroom
,
San Francisco
,
Santa Clara
,
Second Screen
,
Smartphone
,
Sports
,
Stadium
,
Stands
,
Tablet
,
Team
,
Technology
,
Television
,
Tracking
,
Traffic
,
TV
,
Video
,
Wi-Fi
,
Wireless
,
World Cup