South Korea plans to invest about $450 billion in semiconductor manufacturing over the next decade in an effort to establish dominance in this key technology sector. One hundred fifty-three companies will follow a national blueprint devised by President Moon Jae-in's administration, led by Samsung Electronics and SK Hynix, which raised their investment to 510+ trillion won in semiconductor research and production from now until 2030. The U.S., China and Europe are all building up their semiconductor manufacturing capacity.
Bloomberg reports that Samsung will boost spending 30 percent to $151 billion and Hynix will spend $97 billion to expand existing facilities and $106 billion for four new semiconductor fabs in Yongin, according to co-chief executive Park Jung-ho.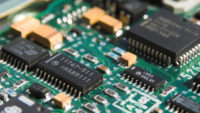 Bloomberg notes that, "South Korea, a security ally of the U.S. and a major exporter to China, has been walking a tightrope between the two while bolstering its own production prowess." The country's Ministry of Trade, Industry and Energy, dubbing semiconductors "strategic weapons," revealed that they "account for the largest share of South Korea's exports" and will likely double to $200 billion by 2030.
Although Samsung and Hynix "make the majority of the world's memory chips," the country "has been lagging in is the ability to produce advanced logic chips that handle complex calculations for tasks like AI and data processing, a specialty dominated by Taiwan Semiconductor Manufacturing Co."
Relying on Nvidia graphics cards and Qualcomm's mobile chips, Samsung "aims to compete more aggressively in this area." Hynix has also indicated interest in producing logic chips, and "the Korean government will incentivize its domestic industry with tax breaks, lower interest rates, eased regulations and reinforced infrastructure" as well as secure adequate water and power supplies in the region for the next 10 years.
South Korea is also courting foreign investment in advanced technology; Dutch chip equipment maker ASML Holding plans to spend 240 billion won to build a training center in Hwaseong and California-based Lam Research Corporation plans to double its capacity in Korea.
Korea Institute for Industrial Economics and Trade analyst Kim Yang-paeng said, "broadening its investment to foundries and logic chips also guarantees that it has something to fall back on should anything go wrong with the memory chip industry that it's dominant in."
Reuters reports that, "South Korea on Thursday said it would offer bigger tax breaks plus 1 trillion won ($883 million) in loans for its local chip industry." Samsung's investment, up from 133 trillion won in 2019, "is expected to be used for its goal to become the world's No. 1 logic chipmaker by 2030." That company also stated its "third chip production line at Pyeongtaek, south of Seoul — the size of 25 football fields — will be completed in the second half of 2022."
South Korea's Ministry of Trade, Industry and Energy said it will also "increase tax breaks to 6 percent from the current 3 percent or lower for capital expenditures between second half of 2021 to 2024 for large corporations conducting 'key strategic technology' including semiconductors." The number of chip industry workers to be educated also rose to 36,000 by 2030, "more than double its previous target in 2019."
Related:
Global Shortage of Computer Chips Could Last Two Years, Says IBM Boss, The Guardian, 5/13/21
The Impact of the Global Chip Shortage Continues to Ripple Across the Tech Supply Chain, ZDNet, 5/10/21
Chip Shortage Expected to Cost Auto Industry $110 Billion in Revenue in 2021, CNBC, 5/14/21