Sony revealed that a team of its engineers is behind the development of an e-paper watch that appeared on an Internet crowdfunding site in September. The entire device, called the FES Watch, is made with electronic paper and can change its appearance based on a user's gesture or at the click of the tiny side button. The device is not designed to be a smartwatch, but rather a stylish fashion accessory. Sony is also developing bowties and other e-paper products.
The FES Watch, which comes with 24 different design patterns, has already been modestly successful on the crowdfunding site. "It has surpassed its initial goal of raising 2 million yen (US$17,000) in just three weeks and has already attracted 3.5 million yen from more than 150 supporters," The Wall Street Journal reports.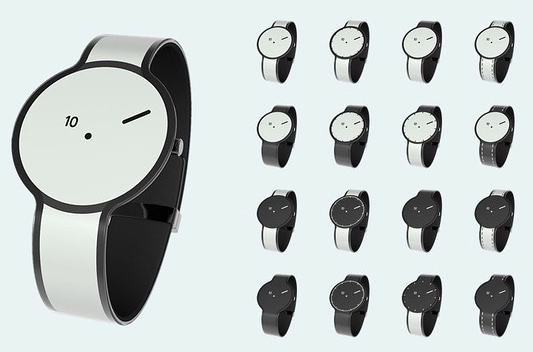 The watch was posted under the project team's name, "Fashion Entertainments," rather than Sony's name, to evaluate the demand and gather feedback about the product.
Hiroki Totoki, the new head of Sony's smartphone division, is in charge of Fashion Enertainments. The project is part of Sony Chief Executive Kazuo Hirai's internal entrepreneurship initiative, reports TechCrunch. The initiative provides financial and advisory support for its employees with ideas for new products or services.
In addition to the watch, Fashion Entertainments is also developing an e-paper bowtie, hat accessories, and a paper holder.
Sony isn't trying to make e-paper products into more Internet-connected devices. Rather, it is looking at e-paper as a new type of fabric. The watch will have touchscreen functionality, according to Digital Trends, and the low-power technology will enable users to wear the accessories up to 60 days without charging.
There is no official release date yet, but people who pre-order the device now can expect to get them in the second half of 2015.