When the U.S. spectrum auction ends in April, Japan's SoftBank Group plans to approach Deutsche Telekom's T-Mobile US about taking over Sprint, for a merger of the two wireless carriers. Until then, SoftBank is restricted by FCC anti-collusion rules preventing discussions between competitors. SoftBank ran into U.S. antitrust regulations two-and-a-half years ago when it was forced to stop negotiations to acquire T-Mobile for Sprint, a deal that would have put SoftBank in control with Deutsche Telekom a minority shareholder.
Reuters broke the news, based on information from unnamed sources, who added that Deutsche Telekom chief executive Tim Hoettges says his company no longer wants to sell T-Mobile, forcing SoftBank to "explore a new strategy towards a potential combination."
Deutsche Telekom owns about 65 percent of T-Mobile, and SoftBank owns about 83 percent of Sprint, but T-Mobile's value has skyrocketed from $30 billion in 2014 to more than $50 billion today, whereas Sprint's has stayed around $36 billion. The two largest U.S. carriers are Verizon and AT&T.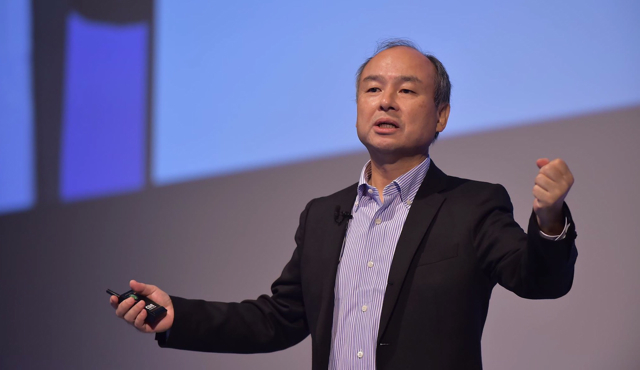 Sources revealed that, in ongoing confidential discussions, SoftBank has expressed its willingness to "surrender control of Sprint and retain a minority stake in a merger with T-Mobile."
"We may buy, we may sell," said SoftBank chief executive Masayoshi Son (above). "Maybe a simple merger, we may be dealing with T-Mobile, we may be dealing with totally different people, different company." Deutsche Telekom may receive other offers, perhaps from Dish Network or Comcast, for T-Mobile, and other companies may be interested in buying Sprint.
T-Mobile, due to "unlimited data plans and international roaming packages… combined with aggressive marketing," has grown to 71.5 million customers, almost as big as Deutsche Telekom's German business; Sprint had 59.5 million at the end of last year, with growth spurred mainly by "heavy price discounts."
Although "the FCC and the U.S. Department of Justice sent strong messages in 2014 that they did not want Verizon, AT&T, Sprint and T-Mobile to merge among themselves," AT&T has since bought DirecTV and "signed an agreement to buy media giant Time Warner." The latter deal is still under government review and has been criticized by President Trump.
According to antitrust experts, it's "difficult to predict how the Trump administration would view a T-Mobile-Sprint merger since key antitrust appointments at the Justice Department have not been made." New FCC chairman Ajit Pai, however, is seen as "more business-friendly" than former chair Tom Wheeler. Son — who has promised to invest $50 billion and create 50,000 jobs in the U.S. — has stated that Trump's promised deregulation will be beneficial for his company.
Topics:
Acquisition
,
Ajit Pai
,
AT&T
,
Comcast
,
Data Plan
,
Department of Justice
,
Deutsche Telekom
,
DirecTV
,
Dish Network
,
Donald Trump
,
FCC
,
Japan
,
Masayoshi Son
,
Merger
,
Regulation
,
SoftBank Group
,
Spectrum Auction
,
Sprint
,
T-Mobile
,
Tim Hoettges
,
Time Warner
,
Tom Wheeler
,
Unlimited Data Plan
,
Verizon
,
Wireless