LG is shutting down its mobile business on July 31. The company announced that, "moving forward LG will continue to leverage its mobile expertise and develop mobility-related technologies such as 6G to help further strengthen competitiveness in other business areas." Its current mobile phones are still for sale and LG said it will provide support and software updates "for a period of time which will vary by region." LG just put out an inexpensive 5G phone with the $400 K92, but its global market share dipped to 1.7 percent.
Engadget reports that, "both LG's Velvet and Wing devices failed to gain traction with the public … [and even] the lure of dual-screen phones (and the promise of rollable displays) … [was] clearly not enough to prompt consumers to part ways with dominant players Apple and Samsung."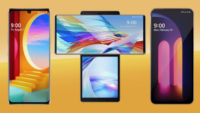 Affordable phones from OnePlus and Xiaomi "continued to chip away at what remained of its market share." LG head of global corporate communications Ken Hong noted that, "as other beloved phone brands have demonstrated before us, it's a numbers game, not a popularity contest."
LG stuck it through, even when the writing was on the wall, with Korean newspaper Dong-A Ilbo reporting the company was in talks with Volkswagen and Vietnam's Vingroup JSC. Nikkei Asia reported its demise was in part influenced by the current lack of smartphone chips. In its statement revealing the closure, LG noted that its "decision to exit the incredibly competitive mobile phone sector will enable the company to focus resources in growth areas such as electric vehicle components, connected devices, smart homes, robotics, artificial intelligence and business-to-business solutions, as well as platforms and services."
CNN reports that, "LG was once one of the world's top smartphone makers, even making the top three back in 2013, according to research firm Strategy Analytics." Last year Counterpoint Research found it wasn't among the top seven global players. But Canalys pointed out that LG phones are still  "the third most popular smartphone vendor in the United States, after Apple and Samsung."
Counterpoint Research partner and vice president Neil Shah said the departure of LG "leaves a 'small vacuum' of global market share of under 2 percent," likely to be filled by "Samsung in both South Korea and the United States, as well as some smaller players."
Disappointed fans of LG phones reminisced, pointing out that LG's V40 is credited with introducing the first ultrawide camera in a phone and that the company "delivered some of the most unique phone designs, ideas and features ever." LG did take risks, including, in 2013, coming out with a curved smartphone screen and, two years later, high-end photography.
Last year's 5G-enabled Wing 5G came with two screens, one of which could rotate up to 90 degrees to enable multitasking. Last month it announced a phone that could be rolled up to turn into a tablet — that now will not be released.
Canalys research analyst Shengtao Jin added that, "for years, [the] LG smartphone was known for its unconventional and innovative features," adding that the customers, however, "did not find much practical value in these features." LG Electronics stock closed 2.5 percent down in South Korea following the news.
Topics:
5G
,
6G
,
Apple
,
Artificial Intelligence
,
Canalys
,
Counterpoint Research
,
Curved Screen
,
Dong-A Ilbo
,
Electric Vehicle
,
Ken Hong
,
LG
,
LG Electronics
,
LG K92
,
LG V40
,
LG Velvet
,
LG Wing
,
Mobile
,
Neil Shah
,
Nikkei Asia
,
OnePlus
,
Robotics
,
Samsung
,
Shengtao Jin
,
Smart Home
,
Smartphone
,
Strategy Analytics
,
Vingroup
,
Volkswagen
,
Xiaomi