BBK Electronics' Oppo brand is garnering notice for Air Glass, natural-looking wireless glasses that sync to the company's smartphones to serve-up augmented reality experiences. Though still in limited release, with no plans for distribution outside of China, the $745 glasses offer a hint of things to come even as Oppo is readying a next-gen version. Weighing in at just 30 grams, Air Glass is positioned as a basic device that delivers practical information, including navigation, weather, time and fitness tracking. Oppo characterizes the functionality as "assisted reality," and its limited ambitions appear to be a strength.
"AR is a spectrum, and the Air Glass falls way on the 'simple notification machine' side of it, not the realistic holograms you'll find in products like Microsoft HoloLens," writes The Verge, explaining "the device is a single lens equipped with a monochrome Micro LED projector and a waveguide that projects its light, plus a plastic stalk with a small speaker and a trackpad that accepts swipes, taps and presses."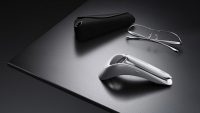 Air Glass has taken a rather unusual approach of offering a two-piece design, configurable via a magnetic divot (that The Verge says "loosely resembles an Apple MagSafe port") along the stalk. "To use it, you put on a pair of custom-designed metal glasses frames that have a matching magnetic nub on the temple. The frames are ordinary glasses but fit the lens system along the right side, and you've got a monocular AR display similar to Google Glass," The Verge reports.
When finished with AR functionality, "you use that magnetic divot to snap it against a curved charging case that looks a bit like a shoe horn, which in turn charges over USB-C." Paired over Bluetooth with the Oppo phone, Air Glass displays green heads-up visuals.
"The virtual overlay looks like something a cyborg assassin would use in the dystopian future of 1995, but in a mostly good way: it's high-contrast, reasonably visible in everything but bright sunlight, and avoids feeling like a washed-out phone screen the way some full-color AR displays do," The Verge opines.
In December, Engadget referred to Air Glass as "a direct competitor" to Google Glass, which it noted at that time had not announced much news "since the wider availability of its Enterprise Edition 2 back in early 2020." This week, global enterprise learning firm CGS announced a partnership with Google "to deliver experiential training and user-generated collaborative content for frontline workers" across industries using Enterprise Edition 2.