San Francisco-based startup Skillz has raised $6 million in equity funding and venture debt to bring cash stakes to mobile games. With this type of functionality, players usually put in an ante of 60 cents with the hopes of winning a $1 prize. Skillz currently shells out $10,000 per day in cash rewards across 175 games running on its platform. The game developers are also making more revenue with cash tournaments than they are through traditional advertising.
Investors expect Skillz to use the new round of funding to help market the games running on the platform. Not only does the Skillz SDK help provide play-for-cash functionality, it also helps developers turn their games into multi-player or tournament games. Other games using Skillz technology can be played for virtual currency or for fun.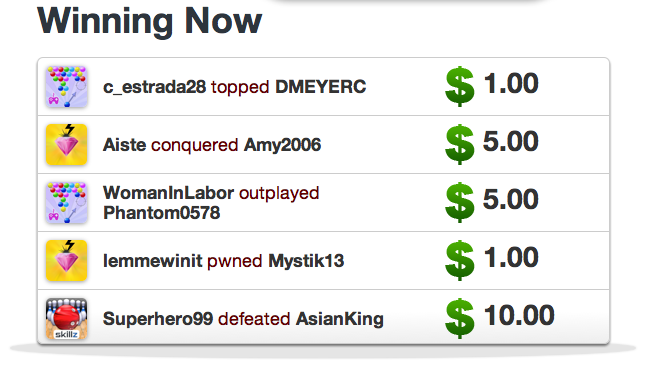 In fact, most of the player population is playing for fun without the cash stakes. Only 10 percent are playing for cash. Some of the most popular Skillz platform games include "Strike! Real Money Bowling" by Touch Mechanics, "Bubble Shooter" by Ilyon Dynamics, and "KungFu Man" by ArecaNut.
Even for players that only play for fun, the play-for-cash option still makes the app more attractive because it makes the game social. Skillz CEO Andrew Paradise told The Wall Street Journal that making the game social drives purchases of mobile games. Developers are also making money with play-for-cash functionality because in-game advertising and in-app purchases can interrupt the game experience and drive away players.
Betable and CashBet are other companies trying to turn mobile games into lucrative tournaments of skill. These skill-based games are the reason that playing for cash are not considered online gambling.
Topics:
Advertising
,
Andrew Paradise
,
Apps
,
ArecaNut
,
Atlas Venture
,
Betable
,
Bubble Shooter
,
Cash Stakes
,
CashBet
,
Chris Gaffney
,
Game Developers
,
Games
,
Gaming
,
Ilyon Dynamics
,
In-App Purchases
,
KungFu Man
,
Mark Jung
,
Marketing
,
Mobile
,
NextView Ventures
,
Online Gambling
,
SDK
,
Skillz
,
Strike! Real Money Bowling
,
Touch Mechanics
,
Venture Debt
,
Virtual Currency