Just 18 months after its official public launch, Redbox announced it plans to shutter its streaming video service on October 7th. Redbox Instant is a streaming video service jointly operated by Redbox and Verizon that failed to gain traction with consumers. The hybrid service launched in early 2013, combining physical disc rentals via Redbox kiosks with a subscription video streaming option. Redbox primarily focused on movies, unlike the TV-heavy model of successful services such as Netflix.
Subscribers were alerted via email over the weekend, while an additional announcement was posted online.
"The joint management of Redbox Instant by Verizon has elected to cease operation of the service effective Tuesday, October 7, 2014," explained a Redbox Instant spokesperson via email. "The joint venture partners made this decision after careful consideration. The service had not been as successful as either partner hoped it would be. We apologize for any inconvenience this may cause our customers."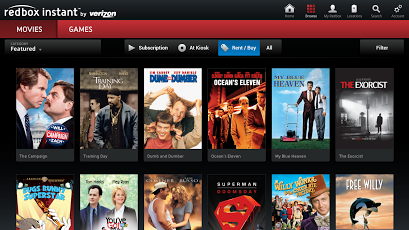 The following is part of the message posted on the Redbox Instant site: "Thank you for being a part of Redbox Instant by Verizon. Please be aware that the service will be shut down on Tuesday, October 7, 2014, at 11:59 p.m. Pacific Time. Information on applicable refunds will be emailed to current customers and posted here on October 10."
The Redbox catalog was significantly smaller than those of competitors including Netflix and Amazon Prime.
According to GigaOM, "…the service never really gained traction with consumers, leading the CEO of Redbox parent Outerwall to remark that both his company and Verizon were 'not pleased' with the subscriber numbers."
"Add in the fact that Redbox has been unable to sign up new customers for months due to suspicions that credit card thieves were using the sign-up system to test stolen cards, and the whole thing sort of just fell apart," suggests TechCrunch.