At CES 2017, Scalable Graphics, which specializes in GPU-accelerated cloud computing, is set to introduce a wireless PC solution for virtual reality that is compatible with Oculus Rift and HTC Vive headsets. The company's one-pound KwikVR is a wireless compression and transmission system that cuts the cord between the VR headset and the computer powering it. Wireless VR and other hardware upgrades or peripherals that make VR experiences better are likely to be trends at CES 2017.
Road to VR reports that other companies set to debut similar consumer or prosumer VR devices in 2017 include Quark VR, Nitero, TPCAST and IMR.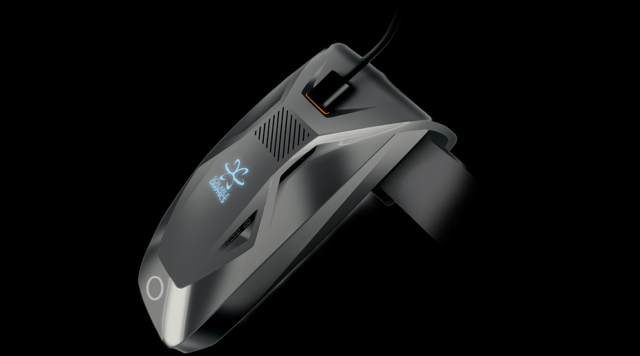 Scalable Graphics will demonstrate KwikVR at CES; the user wears a belt-mounted receiver unit that includes an HDMI port and two USB ports. The cables that would typically attach to the PC (or Vive's breakout box) would instead plug into KwikVR's ports, which transmit compressed video to the headset over HDMI, and input data back to the "host machine," all wirelessly.
KwikVR is powered by a 16100 mAh battery for what Scalable Graphics says is four hours of playtime between charges.
KwikVR, similar to IMR's solution, "will work over your existing 5Ghz network hardware … which means it's a tad more elegant (assuming it works of course) than TPCAST's solution which relies on WiGig 60Ghz transmitters and receivers shipped with the product," explains Road to VR.
Scalable Graphics says KwikVR, which comes with its own Wi-Fi router and HDMI dongle, "has 12ms additional latency" at the Oculus Rift and HTC Vive's native 2160 x 1200 resolution, running at 90Hz. Unknown is how much image quality "will be sacrificed in the compression stage in order to sustain a demanding VR video stream."
According to Road to VR, "IMR demonstrated some impressive results," despite some artifacts, with a 95 percent compression rate.
Topics:
Battery
,
CES 2017
,
Cloud
,
Compression
,
CTA
,
Dongle
,
Gaming
,
GPU
,
HDMI
,
HTC Vive
,
IMR
,
KwikVR
,
Las Vegas
,
Latency
,
Nitero
,
Oculus Rift
,
Quark VR
,
Router
,
Scalable Graphics
,
TPCast
,
USB
,
Video
,
Virtual Reality
,
VR Headsets
,
Wi-Fi
,
WiGig
,
Wireless VR