At its second Galaxy Unpacked event, Samsung debuted two new versions of folding phones, the Galaxy Z Fold3 5G, which opens like a book and acts like a mini-tablet, and the Galaxy Z Flip3 5G, which opens like a compact mirror and offers a smaller form factor. Also new are two new smartwatches, the Galaxy Watch4 and Galaxy Watch4 Classic, both the first to run Wear OS 3, the Google-owned operating system co-developed with Samsung and Fitbit. Samsung also debuted Galaxy Buds2. All the new gear will go on sale August 27.
Wired reports that the Fold3 (pictured below) opens up to a 7.6-inch screen and, "in its folded state, a large touchscreen on the front allows you to use it as a normal phone." The Flip3 is "for anyone who has ever complained about how big phones are getting these days."
Both have water-resistance ratings (IPX8). The main displays "use a new protective film that's 80 percent more durable and scratch-resistant than the last versions, and the glass on the back and front is the latest Gorilla Glass Victus, which is 50 percent more durable than the Gorilla Glass 6." The aluminum frame and hinge are "10 percent stronger and lighter." Both use Qualcomm's Snapdragon 888 chip and offer "robust 5G support."
Sold separately, a new S Pen Fold Edition enables the user to jot down notes "with lower latency" and the S Pen Pro offers Bluetooth connectivity for multiple Galaxy devices. The Fold3 costs $1,799 and the Flip3 (below) starts at $1,000.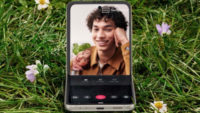 Samsung has abandoned the Tizen operating system for its new watches in favor of Google Wear OS, which gives users "access to more useful apps, such as Google Maps … [and] could potentially encourage more developers to build apps for Wear OS, something Google has always struggled with." Both watches rely on a 5nm Samsung processor, "have higher-resolution screens, 16 gigs of storage, up to 40 hours of battery life, and wireless fast charging."
The BioActive smartwatch sensor also sits closer to the skin, "thereby improving the health tracking abilities of the watches." The Watch4 starts at $250 for the Bluetooth version, with LTE connectivity adding $50. The Watch4 Classic starts at $350 and is made of stainless steel; again, $50 more for LTE connectivity.
Samsung Galaxy's wireless Buds2 are "about 15 percent smaller and 20 percent lighter than the previous Buds Plus" and also offer active noise-canceling tech and "a nicer-sounding dual-driver array similar to what's found in Samsung's Buds Pro."
The Wall Street Journal reports that Samsung mobile communications business president Roh Tae-moon said, "we've seen that users who have tried foldable phones like the experience and say they want to use them again … but it's hard to discover the value of foldables if they haven't had a chance to experience them." He added that he doesn't consider Samsung's earlier foldable phones to be flops but rather a way to "establish … baseline expectations among consumers and set the ground for this year's models."
Samsung "dominates the foldable category," with just three rivals: Huawei Technologies, Xiaomi and Lenovo Group's Motorola. Strategy Analytics reported that two million foldable phones were sold globally last year, and shipments this year "are forecast to hit seven million units."
Topics:
5G
,
Bluetooth
,
Fitbit
,
Foldables
,
Galaxy Buds2
,
Galaxy Unpacked
,
Galaxy Watch4
,
Galaxy Watch4 Classic
,
Galaxy Z Flip3
,
Galaxy Z Fold3
,
Google
,
Google Maps
,
Gorilla Glass Victus
,
Huawei
,
Lenovo
,
Motorola
,
Qualcomm
,
Roh Tae-moon
,
Samsung
,
Smartphones
,
Smartwatches
,
Strategy Analytics
,
Tizen
,
Wear OS 3
,
Xiaomi