Samsung live-streamed its annual Unpacked event from South Korea, revealing more than five new devices including the Galaxy Z Fold 2, two Galaxy Note20 5G models, the Galaxy Buds Live, the Galaxy Tab S7 tablet, Galaxy Watch3 and more. The company is finding it difficult to sell its high-end devices as are other phone manufacturers during the pandemic and economic downturn. Regarding the upcoming Galaxy Z Fold 2, Samsung focused on its fixes for flaws in the original folding phone.
CNET reports that, "the new Galaxy Z Fold 2 foldable phone (below) includes a Qualcomm 865 Plus processor" and that, although it still uses foldable glass, "Samsung shrank the gap between the screens and made it thinner overall than the Fold." Preorders start on September 1.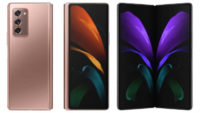 The Galaxy Note20 (below), said Samsung, sports "the best camera it's put in a phone thus far." The company also stated that, "the new S Pen is more precise, with a drop to 9ms latency." The Ultra now sports a 240Hz screen "for less latency in screen updates for gaming."
That comes with Xbox Game Streaming (formerly xCloud) for three months and a free controller, via a partnership for Xbox Game Pass Ultimate and good for all Galaxy devices. Preorders for Notes in 5G models have already begun.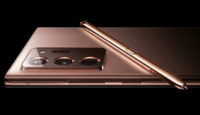 The Verge reports that, at the end of Unpacked, Samsung Electronics global executive senior vice president Federico Casalegno stated that "going forward, 5G and foldables will be the major pillars of Samsung's future." The original Galaxy Fold presented many problems, from a delayed launch to multiple review units that failed.
With its Galaxy Z Fold 2, Samsung spent time at the event to show off all the fixes, including "the progression of the hinge design from the Fold to the Z Flip to the Z Fold 2." The new hinge allows the phone to "stay in place at a wider range of angles" and a "sweeper" technology brushes out dust and dirt.
The Fold 2's outside screen is now "a full-size 6.2-inch panel, although it's likely still quite narrow … the notches on the main display have been tossed out in exchange for diminutive hole-punch cameras, and the display technology has been improved to offer 120Hz refresh rates."
The company showed off the Fold 2's increased durability, with ultra-thin glass technology screens, although "it's still much more fragile than the hardened Gorilla Glass most of us are used to on regular smartphones."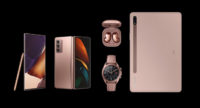 In its own press release, Samsung reports that the Galaxy Note20 series comes in two versions: the basic Galaxy Note20 and the more powerful Galaxy Note20 Ultra. They both feature an 8K camera with 21:9 aspect ratio and 24fps recording. The user can create "cinematic style" videos using "Pro Video mode with pro-grade focus, audio, exposure, zoom speed control, and 120 fps video." It can also be paired with Galaxy Buds Live to record "crystal-clear audio while minimizing noise in the background."
Related:
Samsung Galaxy Note 20 vs iPhone 11 Pro: This $1,000 Spec Showdown Has a Clear Winner, Macworld, 8/6/20
Samsung Galaxy Tab S7+ Hands-On: It's All About That Spec Sheet, Engadget, 8/6/20
Samsung Galaxy Tab S7: Even Tablets Are Getting 5G Now, CNET, 8/5/20
Samsung's "Beans" Earbuds Are Here, and They're Called the Galaxy Buds Live, Ars Technica, 8/5/20
Samsung Galaxy Buds Live Review: Cool Beans, The Verge, 8/6/20
Topics:
5G
,
8K
,
Coronavirus
,
COVID-19
,
Federico Casalegno
,
Foldable
,
Foldable Phone
,
Galaxy Buds Live
,
Galaxy Note20
,
Galaxy Note20 Ultra
,
Galaxy Tab S7
,
Galaxy Tab S7 Plus
,
Galaxy Watch3
,
Galaxy Z Fold 2
,
Gorilla Glass
,
Mobile
,
Pro Video
,
Qualcomm 865 Plus
,
S Pen
,
Samsung
,
Xbox Game Pass Ultimate
,
Xbox Game Streaming
,
xCloud
,
Z Flip