Samsung recently announced it will make two follow-up smartwatches to the Galaxy Gear. The new Gear 2 and Gear 2 Neo will be available just five months after the release of their predecessor. While most of the key specs are similar to the first Gear, the new models will have a 1.0GHz dual-core SoC of unspecified make, in contrast to the 800MHz single-core chip in the first Gear. The new battery will last twice as long, and most importantly, the next-gen smartwatches will run on Tizen rather than Android.
The Gear watch is one of the first commercial products to use Tizen, following the Samsung NX300M camera.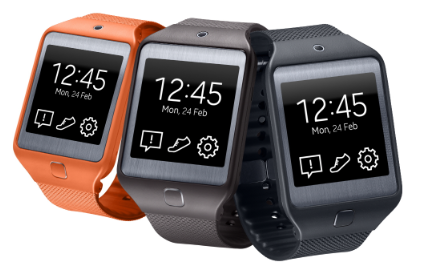 "Visually, the new software is similar to the old — Samsung's promotional shots all show light white text and images on a background," according to Ars Technica. "However using Google's debug tools to hack around with the Gear will no longer be possible."
The Gear 2 and Gear 2 Neo are also extremely similar. Both have the same hardware home button, and will allow users to change wristbands in a variety of colors. The face of the Gear 2 Neo is plastic, which is a little larger and lighter, while the face of the Gear 2 is metal. The Gear 2 will have a 2.0 MP camera, while the Gear 2 Neo does not have a camera.
Both models will be available in April worldwide, and while the prices have not yet been announced, the Neo will be the less expensive model. The watches will only connect with compatible Galaxy smartphones and tablets.
Topics:
Android
,
Ars Technica
,
Battery
,
Button
,
Camera
,
Chip
,
Commercial
,
Debug
,
Device
,
Gadget
,
Galaxy
,
Gear
,
Gear 2
,
Gear 2 Neo
,
Google
,
Hack
,
Hardware
,
Home
,
Interchangeable
,
Metal
,
Mobile
,
Model
,
Neo
,
Phone
,
Plastic
,
Price
,
Samsung
,
Shop
,
Smartphone
,
Smartwatch
,
SoC
,
Software
,
Spec
,
Switch
,
System
,
Tablet
,
Technology
,
Tizen
,
Watch
,
Wearable
,
Worldwide
,
Wrist
,
Wristband