Samsung says over the next five years it will invest $356 billion in chip production, biopharmaceuticals and other next-gen tech, creating tens of thousands of new jobs. While Samsung says most of the funds — $285 billion — will be spent in South Korea, the Seoul-based electronics giant also has operations in the U.S., Canada, the UK and Philippines. That new plan marks a 30 percent increase in Samsung's spending over the previous five-year period and is a considerable expansion over earlier budgeting. Memory chip manufacturing and 6G wireless are among the areas to benefit from the new investment.
The news comes in the wake of President Joe Biden's visit this week to a Samsung semiconductor factory in Pyeongtaek as part of his first Asia trip in office. Accompanied by U.S. Secretary of Commerce Gina Raimondo, Biden used the Asia tour "to formally unveil" his new Indo-Pacific Economic Framework for Prosperity (IPEF), Reuters reports, citing sources critical of the deal, which includes "13 countries and not China."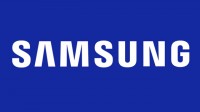 "So much of the future of the world is going to be written here, in the Indo-Pacific, in the next several decades," CNN quotes Biden as saying while stopping in at the Samsung plant in South Korea.
Samsung is perhaps best known globally as an electronics manufacturer that supplies everything from smartphones and TVs to washing machines. "In recent years, the company has leaned further into its role as a provider of semiconductors as manufacturers around the world suffer from shortages," CNN writes, noting memory chips "have proved to be a key moneymaker" for the company.
Samsung is also investing heavily in 6G, and this month hosted a virtual 6G Forum (available for playback on the company's YouTube channel). Samsung Research chief Sebastian Seung says 6G "will provide ultimate experiences" for people through "the next level of hyper-connectivity," and advises that "shaping 6G will require many years" and "need lots of discussion and collaborations among players in industry and academia."
Samsung SDI, the group's battery unit, along with Chrysler parent Stellantis on Tuesday announced the opening of a new lithium-ion battery production plant in Indiana, U.S. News reports.
Reuters says the Samsung investment announcement "did not include electric vehicle batteries as a future growth engine," instead emphasizing computer chip and bio supply chains as strategically significant and "important for South Korea's economic security."
Topics:
6G
,
6G Forum
,
Appliances
,
Asia
,
Batteries
,
Biopharmaceuticals
,
China
,
Chip
,
Chrysler
,
Electronics
,
Gina Raimondo
,
Indiana
,
Investment
,
IPEF
,
Joe Biden
,
Lithium-Ion
,
Samsung
,
Samsung SDI
,
Sebastian Seung
,
Semiconductor
,
Smartphone
,
South Korea
,
Stellantis
,
Supply Chain
,
TVs
,
Wireless
,
YouTube