Entertainment company CJ ENM has opened what is being described as the world's largest virtual production stage to use Samsung MicroLED technology. The facility, created in collaboration with Samsung Electronics, is outfitted with connected cameras and offers a 360-degree backdrop using Samsung's "The Wall." The South Korean virtual production stage will be used to produce scripted and unscripted shows for film and television and serve as a venue for concerts and other entertainment events. CJ ENM says the virtual production technology will also produce the next generation of immersive content for augmented reality experiences and the metaverse.
"The partnership, first announced in July 2021, leverages the customizable, modular technology of The Wall and CJ ENM's globally renowned television and film content production," writes Rapid TV News of the venue, located in Paju, just outside of Seoul.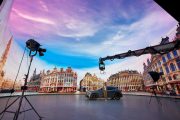 Samsung Electronics visual display business executive vice president Hyesung Ha said in announcing the opening that the creativity of CJ ENM combined with the advanced technology powering the new stage will bring "the latest content to life like never seen before." Rapid TV News says this new studio is the first in the world to use Samsung's MicroLED Wall — which Samsung refers to by model designation IWA — for production.
Each of The Wall's IWA screens measures more than 1,000 inches, configured together in a custom oval display of 20 meters in diameter and 7 meters in height, Samsung says. The IWA model display supports a resolution of 30,720 (32K) x 4,320 (4K). "This real-time, virtual set powered by Samsung's MicroLED displays and connected cameras will reduce the image compositing needs and save time and production costs," Samsung says in its release.
The stage also boasts an IFR2.5 ceiling display, with the IFR 2.5 Plug Wall displayed on the opposite side of the IWA, enabling 360-degree electronic capture.
The Wall's display configuration can be customized to fit the unique requirements of individual content creations, including ceiling installation in convex or concave design, with displays featuring HDR10, HDR10+ and Cinema LED picture quality. Dedicated studio frame rates include 23.976, 29.97 and 59.94Hz for what Samsung says is "seamless video sync."
IBC estimates nearly 200 virtual production stages have been built globally. Last summer, Warner Bros. opened one of Europe's largest, V Stage, as part of an expansion at  Warner Bros. Studios Leavesden. The V Stage offers 24,000 square-feet of total space and a 7,100-square-foot wraparound virtual production environment, using a matrix of more than 2,600 LED panels and powerful image processing. Deadline said HBO's "Game of Thrones" prequel "House of the Dragon" was an early client.
Topics:
Augmented Reality
,
CJ ENM
,
Europe
,
Game of Thrones
,
HBO
,
HDR10
,
HDR10 Plus
,
House of the Dragon
,
Hyesung Ha
,
IBC
,
Immersive
,
IWA
,
LED
,
Metaverse
,
MicroLED
,
Movie
,
Plug Wall
,
Samsung
,
Samsung Cinema LED
,
Seoul
,
South Korea
,
Stage
,
The Wall
,
TV Show
,
V Stage
,
Virtual Production
,
Virtual Set
,
Warner Bros.