Universal Music Group, largest of the major music labels, just closed an investment deal with Rockbot, a virtual jukebox service that provides music to bars, restaurants and other locations. Through Rockbot, businesses can play licensed music while customers use a mobile app to check in and interact with the songs. One perk is the ability for customers to vote on which music will be played. Rockbot expects to use the new funding to expand its reach throughout the U.S.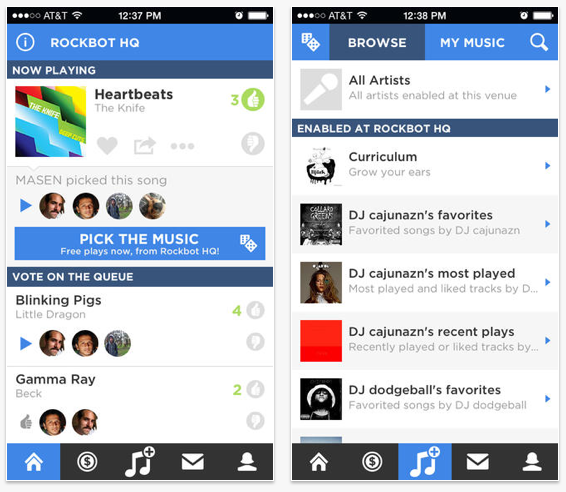 Rockbot plans to increase its number of locations by 20 percent per month. So far, this has led to a 300 percent increase in the first half of 2014.
"There are more than 2 million brick-and-mortar locations with more than 100 million smartphone users visiting them every day," reports TechCrunch. "Rockbot hopes to provide a way for businesses to connect with those customers through social check-ins using its app, along with enabling them to control what's being played on the sound system."
"At the core of Rockbot's value prop for users is the ability to pay to play songs on the virtual jukebox, and also to allow others to vote on which songs get to be played next," notes the post. "That type of interaction is leading users to engage with the app an average of 22 minutes when in one of Rockbot's customer's venues."
UMG's investment should help Rockbot further its reach, as it did with Beats, Spotify and Shazam.
Topics:
Android
,
App
,
Bars
,
Beats
,
Connected
,
Funding
,
Hospitality
,
Investment
,
iOS
,
Jukebox
,
Licensed Music
,
Mobile App
,
Music
,
Music Labels
,
Restaurants
,
Revenue
,
Rockbot
,
Sharing
,
Shazam
,
Smartphones
,
Social
,
Social Jukebox
,
Songs
,
Spotify
,
UMG
,
Universal Music Group
,
Venues
,
Virtual Jukebox