To battle Amazon's ubiquity and customers' fickle loyalty, some retailers are testing the new Customer 360 software from Salesforce.com and Freshworks to improve their customer service. The software lets retailers build shopper profiles similar to Facebook to better understand what each customer wants and increase the odds that he or she will become more loyal to the retailer in question. Other strategies retailers are employing are the use of improved chatbots and better customer support training.
Bloomberg reports that retailers are up against the loyalty inspired by Amazon's "Prime subscription, free shipping and peerless customer service."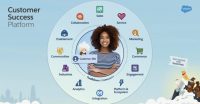 Forrester analyst Brendan Witcher also noted that, "retailers have realized consumers hyper-adopt and hyper-abandon brands like never before."
"The products don't really matter anymore," he said. "What does matter is the experience — and service is a key part of that." They're "pinning their hopes" on Customer 360, which gives them "a 360-degree view of shoppers" with information from marketing, help-desk and sales departments.
According to Salesforce senior vice president Patrick Stokes, who heads the project, Customer 360 will allow retailers to provide customer service that is "a lot more like an Amazon experience."
With the new software, when the customer's number appears on the service agent's screen, he or she will "have an immediate history of your relationship with the brand," including purchases, returns, ads clicked on, and products removed from the cart before checkout.
Freshworks chief executive Girish Mathrubootham, who started the company after a months-long tangle with a shipping company, noted that his software can "help retailers suggest new items and offer discounts on products, based on a customer's previous shopping behavior." Among its global clients are Hugo Boss, Bridgestone and HP.
The stakes are high as customers feel increasingly comfortable buying big ticket items online. Home improvement online company Build.com now has a 300-person team of project experts to help customers buy "more complex, larger-sized orders," said president Russ Wheeler.
One of the least expensive ways that retailers can improve customer service is to "enlist chatbots, often via Facebook, Instagram or Slack," all of which have improved due to machine learning algorithms "that have become better at carrying on human-like conversations and even anticipating customers' needs."
At Headliner Labs, a startup offering this service to Wander Beauty and other retailers, chief Caroline Klaatt noted that, "this is going to expand the help desk from only waiting for inbound customer complaints to enabling them to do more than that."
Topics:
Amazon
,
Amazon Prime
,
Brendan Witcher
,
Bridgestone
,
Build.com
,
Caroline Klaatt
,
Chatbots
,
Customer 360
,
Customer Service
,
Facebook
,
Forrester
,
Freshworks
,
Girish Mathrubootham
,
Headliner Labs
,
HP
,
Hugo Boss
,
Instagram
,
Machine Learning
,
Online Retailers
,
Patrick Stokes
,
Retail
,
Russ Wheeler
,
Salesforce.com
,
Slack
,
Wander Beauty