Now that the CES dust has settled on Las Vegas — analysts, journalists and tech bloggers can't seem to say enough about the Razer Blade Stealth Ultrabook, which is generating an impressive number of awards from "Best PC" and "Best of CES" to "People's Choice Award." Engadget, Mashable, TechRadar and SlashGear are just a few of the numerous publications that are praising the $999 Razer Blade Stealth. The gaming laptop runs Windows 10 and touts a 12.5-inch multi-touch display with IGZO 16:9 aspect ratio. The Razer Core, an external graphics docking station, is also on its way.
"You can put almost any recent full-size, desktop-grade graphics card inside the Core, whether it's made by Nvidia or AMD," explains CNET. "You can connect external monitors to the box, an Ethernet network cable, and up to four USB peripherals like your keyboard and mouse."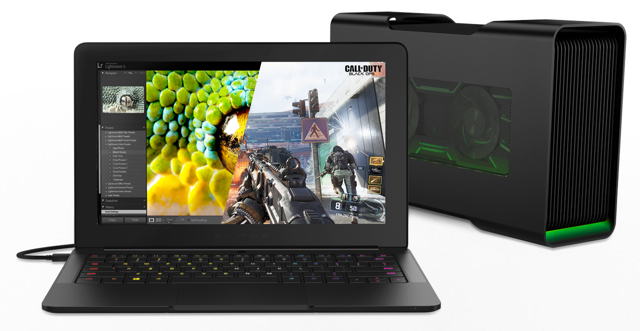 "Then, you can run a single reversible USB Type-C Thunderbolt 3 cable from the Core to the Stealth laptop to extend your screen to the monitor, add your peripherals, charge your laptop, and drastically augment the Stealth's gaming performance — all at the same time."
Just 0.52-inches thin and 2.75 pounds, the aluminum Stealth features USB 3.0 ports, Ethernet and HDMI output. According to the release, "a touch-enabled QHD or 4K screen is powered by an Intel Core i7 dual-core processor. The system's individual RGB backlit keys offer 16.8 million customizable color options powered by Razer Chroma, a first for laptops of any type."
The Razer Blade Stealth is currently available to order online starting at $999 (it will also be available in Microsoft stores beginning next month). Pricing varies based on screen resolution and storage. The 4K model with 512GB SSD runs $1,599. The Razer Core is coming soon, expected within the first half of 2016.
Related:
Presenting the Best of CES 2016 Winners, Engadget, 1/8/16
Razer's Gaming Ultrabook Lets You Bring Your Own Video Card, Engadget, 1/6/16
True Gaming Laptops Are Finally Becoming a Reality, The Verge, 1/9/16
Topics:
4K
,
Aluminum
,
AMD
,
Best of CES
,
CES 2016
,
Core i7
,
Docking Station
,
Engadget
,
Ethernet
,
Gaming
,
Graphics Card
,
HDMI
,
IGZO
,
Intel
,
Laptop
,
Mashable
,
Microsoft
,
Nvidia
,
Razer
,
Razer Blade Stealth
,
Razer Chroma
,
Razer Core
,
SlashGear
,
SSD
,
TechRadar
,
Thunderbolt 3
,
Ultrabook
,
USB 3.0
,
USB-C
,
Windows 10