To draw attention to their new video game releases, major publishers such as Electronic Arts, Activision Blizzard, Ubisoft Entertainment and Take-Two Interactive are paying top-tier gamers to play their new releases live online. Talent and marketing agencies report that these companies can pay the most popular gamers as much as $50,000 per hour to do so. On September 13, Take-Two will pay gamers to live-stream its new release "Borderlands 3," and again for its October 4 release of "Tom Clancy's Ghost Recon Breakpoint."
The Wall Street Journal reports that Take-Two chief executive Strauss Zelnick noted that, "having celebrity streamers play games is an important part of the business … it is relatively new, but it has to be organic. The streamers have to believe in it."
The ploy of paying gamers has been the domain of the smaller, indie game publishers, but now even the biggest publishers are joining in. "If you don't have live-streaming as part of your marketing spend, you're doing it wrong," said Greenlit Content chief executive John Benyamine, whose company signs up streamers for the task.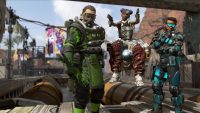 In the video game industry, worth $130 billion and drawing viewers that spend 8.9 billion hours watching games on Amazon's Twitch, debuting a new game is now "akin to the opening weekend of a star-studded Hollywood movie." Hiring a celebrity professional gamer such as Tyler "Ninja" Blevins is another way to stand out from the pack, in live streams that are labeled as sponsored.
Electronic Arts did this to promote "Apex Legends" (above), which debuted on February 4 and was played by more than one dozen gamers — including Ninja. As a result, the game was downloaded more than one million times on its first day and 50+ million within the first month. One of EA's paid gamers, Benjamin "DrLupo" Lupo, noted, "we have the power to convince people to buy a game they're on the fence about."
"They see us as more trustworthy than a name they don't recognize that wrote a review," he explained. "They can see our faces. It's live interaction."
Electronic Arts would not reveal how much it paid Ninja, but Night Media chief executive Reed Duchscher, said that gamers who attract a viewership of at least 15,000 at once "can command between $25,000 and $35,000 an hour during a big launch, with the most popular ones earning more." The downside of live-streaming games is that, "technical glitches could make a poor first impression or a live-streamer could speak off-color," both of which have happened, and that there is "no guarantee a streamer will be converted into a regular player."
Despite an initial wave of interest, audiences built up by such a tactic can also decrease; Newzoo reported that "last month, people spent 24.7 million hours watching other people play 'Apex Legends' on Twitch, down from 122.1 million in February." Cowen analyst Doug Creutz also emphasized that publishers have to make sure the game is bug-free and otherwise ready for mass distribution since it's difficult to cajole a player who's had a bad experience to give the game another try.