Popcorn Time, a free software BitTorrent client with integrated media player, has shut down, seemingly due to tampering with its DNS server. Could this be the end for the company that was shut down once due to MPAA complaints about piracy? That's not clear, but just before its site went down, Popcorn Time creators announced the launch of Butter, a new version of the Popcorn Time service, but without any direct links to piracy. Butter lets the user create a streaming service — and leaves the piracy up to the individual user.
The Next Web, before Popcorn Time disappeared from the Web, was able to copy the company's press release announcing Butter. The creators noted that, after Popcorn Time "moved from GitHub over copyright concerns, it found people didn't contribute as much."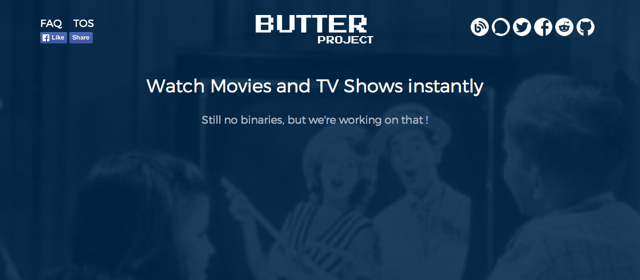 "By separating out the streaming engine, it's hoping that it'll be able to get more developers onboard," says TNW, which added that, on Twitter, the creators said, "at first it'll be able to stream from open content, like Internet Archive content."
With Butter, Popcorn Time hopes to present its core technology as a legitimate service, "while still allowing it to live on inside services that do provide copyrighted content." "You can grab the bits for Butter right now, though there are no pre-built binaries available," says TNW.
In excerpts from the original press release, Popcorn Time creators said, "there have been confusions by developers and users alike about what could and couldn't be done with the app… We also understand that the particularities of the app could make some people cautious in sharing their skills with us."
The release notes that the company has had internal talks for almost a year to figure a way out of the situation.
The solution, the release said, was to split the Popcorn Time project in two. "On one hand popcorntime.io will continue to deliver the exact same experience to our beloved users. On the other the Butter team will operate in an absolutely clear legal framework to develop the best technology we can."
Unlike Popcorn Time, the Butter Project website is up and running.