A poll conducted by the bipartisan Future of Tech Commission indicates that 80 percent of registered U.S. voters would like to see the federal government take a more aggressive approach to regulating tech giants. The poll found that respondents agreed the government "needs to do everything it can to curb the influence of Big Tech companies that have grown too powerful and now use our data to reach too far into our lives." In addition, 84 percent of voters say they are "very nervous" about the effect social media has on children. The Commission hopes the findings will help persuade policymakers to regulate the power of Internet platforms.
Polling was conducted in July by Benenson Strategy Group with Public Opinion Strategies. "The results amount to a call to action by voters," reports The Wall Street Journal, citing pollster Joel Benenson, advisor on campaigns for Barack Obama and in 2016 Hillary Clinton.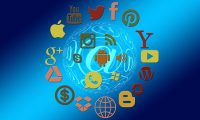 While respondents supported strengthening antitrust laws so competition can flourish, breaking up the tech companies on antitrust grounds is not a high priority.
"By 54 percent to 45 percent, voters agreed that 'breaking up Big Tech companies threatens our country's biggest drivers of innovation and growth,'" writes WSJ, noting companies including Facebook, Amazon, Apple and Google generally refute claims of too much power by stressing they are reined in by the dynamic, highly competitive markets in which they operate. However, companies including Facebook have expressed support for data privacy protections.
Asked whether they view Big Tech firms favorably or unfavorably, the poll found Google was the big winner with 81 percent favorability. Amazon came in second at 74 percent. Apple scored 67 percent, Facebook 53 percent. Specific executives did not fare as well. Amazon founder Jeff Bezos scored a mere 36 percent favorable to 35 percent unfavorable. Facebook founder Mark Zuckerberg scored 44 percent unfavorable to 36 percent favorable.
Meanwhile, Reuters, citing a draft memo, reports that the U.S. and EU plan to take a more unified approach to action limiting Big Tech's power with a joint announcement likely forthcoming at the first U.S. and EU Trade and Technology Council meeting scheduled to take place September 29 in Pittsburgh.