Digital media center manufacturer Plex is debuting Plex Cloud, which runs its server on Amazon Drive without a local computer or network-attached storage drive. A select group of beta testers will get their hands on Plex Cloud, enabling them to set up a Plex server in one minute and use Amazon's consumer cloud storage service, including the ability to stream media to any device. This change removes one of the biggest obstacles to adoption of Plex's solution for personal media: the need for a dedicated server.
Variety reports that, before this change, some users were forced to "dedicate an entire computer to this task, while others instead [bought] a network-attached storage drive, which can double as a backup solution for personal data." Now, with Amazon Cloud Drive, users with cloud-based Plex servers get unlimited storage, and "media will automatically be transcoded, so a stream to a mobile or TV-connected device will always play, no matter the source format."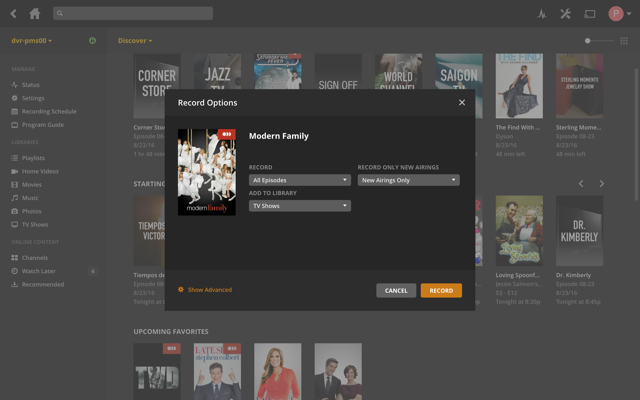 To qualify as a beta tester for Amazon Cloud Drive, the user must pay the annual $40 subscription fee for Plex Pass and $60 for an annual subscription to Amazon's Cloud Drive. Plex Cloud won't initially support all of Plex's features: Its just-launched DVR "isn't supported for cloud-based servers" nor is the ability to automatically upload photos to the cloud.
TechCrunch dubs Plex "a pirate's best friend … by far the best way to get movies downloaded illegally from the computer to TV." Now those pirated movies — along with legit content — will be stored on Amazon's cloud "as if the content was streamed locally." The problem is that "Amazon explicitly bans users from hosting infringing content on its servers," which includes those "movies downloaded from The Pirate Bay and countless other sites." Although pirated content may not be identified immediately, Amazon Web Services "will likely remove it" upon identification.
Some users believe that "as long as the content is not publicly shared or advertised, the content will run under the radar of Amazon, Google, and the rest of the cloud providers," but Plex states clearly that, "those who use Plex Cloud should abide by the Terms of Use of both Plex and Amazon." Calling such downloads "a gray area," TechCrunch reports that "if I relied on Plex to serve downloaded movies and TV shows to my family, I would keep that content stored safely and privately on a server in my basement."
Topics:
Amazon
,
Amazon Cloud Drive
,
Amazon Cloud Storage
,
Amazon Web Services
,
AWS
,
Cloud
,
DVR
,
Google
,
Media Center
,
Mobile
,
Movies
,
Networks
,
Photos
,
Piracy
,
Pirates
,
Plex
,
Plex Cloud
,
Plex Pass
,
Servers
,
Storage
,
Streaming
,
Subscription
,
Television
,
The Pirate Bay
,
Transcoding
,
TV Shows
,
Video