The Defense Department stated that the contract for the Joint Enterprise Defense Infrastructure (JEDI) project "no longer meets its needs," canceling a highly contentious $10 billion cloud computing contract awarded to Microsoft. In January, the department warned Congress that it would do so if a federal court agreed to hear whether former President Trump used his influence to award the contract to Microsoft over its rival Amazon. Such a suit, it pointed out, would result in a lengthy court cost and unacceptable delays. Instead, the Pentagon announced a new cloud program.
The New York Times reports the Defense Department added that, "it would solicit bids from Amazon and Microsoft on future cloud-computing contracts." According to a senior administration official, "soon after the Biden administration took office, it began a review that quickly concluded that the costly arguments over JEDI had been so lengthy that the system would be outdated as soon as it was deployed."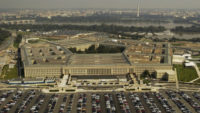 Now, the Pentagon is proposing a "new cloud architecture called the Joint Warfighter Cloud Capability (JWCC) … [and] made clear that only Microsoft and Amazon Web Services had the capacity to build it."
NYT says the announcement suggests that the Pentagon "would buy technology from both companies, rather than awarding one large contract to a single provider, as it had for JEDI." The decision, it adds, is "a Pyrrhic victory for Amazon, which is the leading provider of commercial cloud-computing services and already has provided services to other parts of the federal government, such as the Central Intelligence Agency."
For JEDI, the Pentagon was determined to use a single provider, "believing that would be the most seamless and secure approach" although Oracle "lobbied for the Pentagon break the contract into pieces and award them to multiple suppliers."
Observers believed Amazon would likely be chosen for the JEDI contract, and when the Pentagon instead awarded it to Microsoft, Amazon sued, "arguing that Microsoft did not have the technical capabilities to fulfill the military's needs and that the process had been biased against Amazon because of Trump's repeated criticisms of [Amazon chief executive Jeff] Bezos."
"For Microsoft, this went from a lottery deal to a court nightmare," said Wedbush Securities managing director of equity research Daniel Ives.
In April, a federal court "said it could not dismiss the possibility Trump had meddled in the process," which led to the Pentagon stating that "the extensive delays surrounding the contract caused national security concerns." By then, officials realized that, "the legal challenges to JEDI could stretch on for years, and the technological concept was already outdated."
The CIA, which had been using a single cloud provider, is now looking for multiple providers, and "the Army, Navy, Air Force and other services were already looking at building their own clouds."
"The problem with the JEDI program is that it was a little like trying to sell a hula hoop in the 1980s," said SAP National Security Services chief executive Mark Testoni. "And between the political problems and the technology problems, the only choice was to start again."
Related:
Pentagon Comes Around to Multicloud Approach, The Wall Street Journal, 7/8/21