A 15-month smartphone patent dispute between Apple and Samsung came to an end when a federal jury in California ordered Samsung to pay Apple $290 million in damages for infringing on five of Apple's patents with 13 of its own devices. The ruling was part of a retrial of the patent dispute. In addition to the $640 million already owed by Samsung to Apple from the original award, the company now owes a total of $930 million.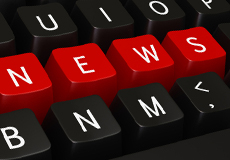 According to The Wall Street Journal, this sum "amounts to about 12 percent of Apple's most recent quarterly profits and about 14 percent of Samsung's latest income." A Samsung spokesperson told WSJ that the company was disappointed with the ruling. Samsung has countersued Apple for the same alleged offense.
On the Apple side, a spokesperson said in a statement that the case "has always been about more than patents and money" and that "it has been about innovation and the hard work that goes into inventing products that people love." The statement expressed gratitude for the jury's ruling, noting that "copying has a cost."
Brian J. Love, an assistant professor at Santa Clara University School of Law, told WSJ that the ruling will likely do little to end the legal battle between the companies. "These parties have shown no willingness to settle," he said. With enormous war chests at their disposal, Thursday's ruling is likely only "a speed bump" on the way to another appeal.
The article notes that the ruling by the jury "relied in part on an Apple patent that the U.S. Patent and Trademark Office said may not be valid." WSJ reports that the two companies split most of the profits from the industry, and that this damage award is one of the biggest for a patent dispute. The trial for Samsung's accusation of Apple's infringements will likely begin next year.
Topics:
Apple
,
Battle
,
California
,
Dispute
,
Federal
,
Income
,
Industry
,
Infringement
,
Innovation
,
Invent
,
jury
,
Law
,
Lawsuit
,
Legal
,
Love
,
Mobile
,
Money
,
Office
,
Patent
,
Patent
,
Phone
,
Profits
,
Ruling
,
Samsung
,
Santa Clara
,
School
,
Smartphone
,
Spokesperson
,
sum
,
Trademark
,
Trial
,
Wall Street Journal