Speaking at the Variety Entertainment Technology Summit, Paramount Film Group President Adam Goodman discussed the need to protect the moviegoing experience, while remaining open to the possibilities that new technologies provide. "With an increasing amount of Paramount's movies taking advantage of 3D and other innovations in display on the silver screen, he sees theaters continuing to be the first driver of content across the various windows," reports Variety.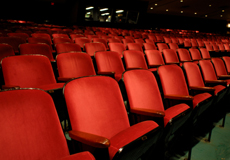 "Frankly, I don't really want to spend years of my life working on something to be able to watch it while I'm standing at a bus stop," said Goodman. "When we first step out to do something, we want it to be presented in the best way it should be presented."
"Goodman cited the introduction of the Paramount InSurge division, which focuses on creating movies targeting distinct audience segments on budgets a fraction of the blockbusters the studio traditionally produces, as something best viewed in theaters as a communal experience with friends," explains Variety.
"You have to see it on the big screen," he said of the social experience. "You don't just want to steal that in a dorm room."
However, Goodman remains enthusiastic about new technologies that continue to innovate filmmaking, distribution and exhibition.
He even noted the potential of first-person perspectives enabled by CE devices. "I want to see the first Google Glass movie," he said.
Topics:
3D
,
Adam Goodman
,
Cinema
,
Distribution
,
Exhibition
,
Film
,
Glass
,
Google
,
Hollywood
,
InSurge
,
Movie
,
Paramount
,
Studios
,
Summit
,
Theater