In a rare move this weekend, the Obama administration vetoed the International Trade Commission's ban on the import and sale of certain Apple iPhones and iPads. U.S. Trade Representative Michael Froman cited concerns regarding patent holders gaining "undue leverage." He also noted the potential harm to consumers and competition in the economy. The veto reverses a legal victory for rival Samsung, although Froman said the company can continue to enforce its patents through the courts.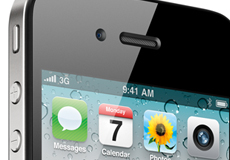 "The action marked the first time since 1987 that a presidential administration had vetoed an import ban ordered by the U.S. International Trade Commission," reports The Wall Street Journal. "The ITC in June had ordered the import ban and an accompanying cease-and-desist order affecting some older-model Apple iPhones and iPads after finding the products infringed a Samsung patent."
The ban raised antitrust concerns and spurred lobbying by tech companies. Those opposed to the ITC order raised questions regarding patents deemed essential to creating new products based on technologies overseen by industry standard-setting groups.
"Apple and some other technology companies argued to the trade representative that the ban was inappropriate because Samsung had committed to fairly license such 'standard essential' patents associated with technology for wireless devices," notes WSJ. "Samsung insisted it had offered to license its patents to Apple, but the Silicon Valley company had sought to avoid paying for licenses of Samsung's patents."
Samsung and some U.S. tech firms "disputed that their commitments to standard-setting bodies mean that patent holders can't seek import bans or court injunctions in enforcing their intellectual property," explains the article. "They argued that a veto of the ITC order would upset decades of settled expectations, weaken the value of patents and discourage innovation."
"We applaud the Administration for standing up for innovation in this landmark case," said an Apple spokeswoman. "Samsung was wrong to abuse the patent system in this way."
"The ITC's decision correctly recognized that Samsung has been negotiating in good faith and that Apple remains unwilling to take a license," countered a Samsung spokesman.
Another ITC ruling is scheduled this Friday to determine if some of Samsung's products infringe Apple patents. The ITC may choose to delay the ruling in the wake of the Obama administration's veto.
In a related article, The Wall Street Journal suggests the decision to veto "promises to upend long-running battles over intellectual property in the smartphone market and change the strategies some of the world's biggest technology companies use to defend their inventions."
Last year, the number of patent cases filed in the U.S. increased almost 30 percent from 2011 to 5,189, according to PricewaterhouseCoopers. While Apple and Samsung have famously been engaged in patent disputes the last few years, other companies have argued about the role of the ITC and its recent decisions. As a result, the tech industry has split regarding how best to move forward and promote innovation.
"Companies including Intel Corp. and Microsoft Corp. fear that injunctions stemming from patents on tiny features of their products could restrict their ability to bring improved devices to consumers. They and some other tech companies argued against ITC sales bans in such cases," explains the article. "Other companies that make money from licensing patents, including Qualcomm Inc., take the opposite position. They argue that courts and trade bodies need to be able to impose sales or import bans or the value of patented inventions will be diminished."
"The veto could discourage companies from taking patent disputes to the ITC, a strategy that had gained favor because the agency tends to issue orders in such cases faster and more easily than federal courts, patent experts said. It also could reduce some patent holders' leverage in licensing talks, cutting the commercial value of their patents."