Japanese mobile giant NTT Docomo is currently planning new wireless trials that could increase the capacity of future mobile networks to 10 Gbps (1,000 times today's LTE networks). The new radio technologies could become an important part of a future 5G standard. NTT Docomo is working with Alcatel-Lucent, Ericsson, Fujitsu, NEC, Nokia and Samsung to perform lab trials at Docomo's research & development facility in Yokosuka, which is expected to be followed by outdoor trials in 2015.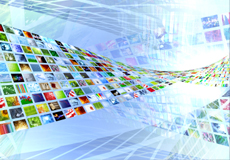 "NTT Docomo is exploring a part of the electromagnetic band that has been previously deemed useless for mobile use: the vast swaths of wireless spectrum above 6 GHz," reports Kevin Fitchard for GigaOM.
"By bringing together huge numbers of frequencies and using big antenna arrays to carriers could introduce reams of new capacity into their networks, but there's also a question of whether they can use that capacity in truly mobile networks or just transmit it only to devices that stay put."
NTT Docomo has been careful to describe the trials as experiments, prior to any formal standardization process of 5G. However, participating vendors such as Ericsson have not been as careful.
According to an Ericsson press release, the two companies "are extending their longstanding partnership from 2G through 4G to include trials of 5G technology this year. As the operator continues to expand its LTE networks, it is already preparing for the 5G evolution of the user experience and new M2M applications. The technology shift will be marked by a dramatic increase in the number of mobile broadband connections and rapid increases in traffic volume. 5G is set to deliver on the long-term industry vision of unlimited access to information for anyone and anything."
"This kind of overzealous marketing of 5G doesn't do anyone any good," suggests Fitchard. "By conflating tests of individual technologies with 5G itself, vendors like Samsung and Ericsson are basically co-opting the term 5G before the industry can figure out what it wants to accomplish in the next generation of mobile networking. In this case, they're reducing 5G to a mere equation of speed."
Fitchard believes there is much more complexity in store for the future of wireless networks.
Topics:
2G
,
4G
,
5G
,
Alcatel
,
Antenna
,
Application
,
Array
,
Band
,
Broadband
,
Capacity
,
Carrier
,
Computing
,
Connection
,
Device
,
DoCoMo
,
Electromagnetic
,
Ericsson
,
Experiment
,
Fitchard
,
Frequency
,
Fujitsu
,
Industry
,
Japan
,
LTE
,
Lucent
,
M2M
,
Marketing
,
Mobile
,
NEC
,
Network
,
Networking
,
Nokia
,
NTT
,
Operator
,
Phone
,
Provider
,
R&D
,
Radio
,
Samsung
,
Smartphone
,
Spectrum
,
Speed
,
Standard
,
Standardization
,
Tablet
,
Technology
,
Test
,
Traffic
,
Transmission
,
Transmit
,
Trial
,
Wireless
,
Yokosuka