Nintendo and The Pokémon Company have announced four new games, three of which will debut this year: kid-friendly "Pokémon Quest" is free to download now on Nintendo Switch and soon for iOS and Android devices; $60 casual games "Pokémo: Let's Go, Pikachu!" and "Pokékon: Let's Go, Eevee!" will debut for Nintendo Switch starting November 16. A fourth game, planned for 2019, will be a new entry in the "core" Pokémon series. Enthusiastic fans have already put the two "Let's Go!" games atop Amazon's best-selling videogame chart.
Business Insider reports that, "the markets also seem to be reacting well to the news of four new Pokémon games," with Nintendo's stock ending 4.3 percent up by end of Wednesday.
The Nintendo Switch, priced at $300, was a big hit when it debuted in 2017 with one top title, "The Legend of Zelda: Breath in the Wild." By the end of the year, "Super Mario Odyssey" was another hit for the platform. Buying a Switch in 2018 seemed to be predicated on Nintendo's "Super Smash Bros.," but the new Pokémon games "and the promise of a new mainline experience in 2019 … makes it even harder to say no to the Switch."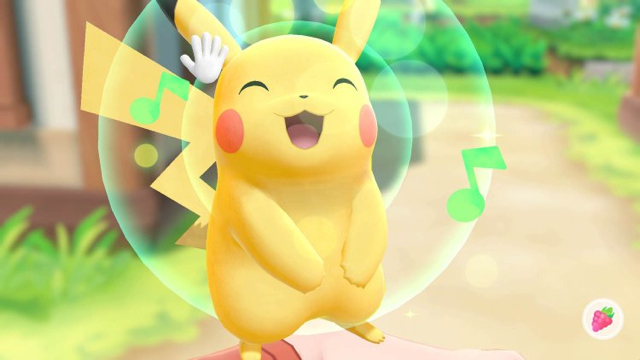 Elsewhere, Business Insider describes the new Pokémon games in greater detail. In "Pokémon Quest," players "cultivate a home base of wild Pokémon with which to take on hordes of enemy Pokémon … leveling up your group of fighting Pokémon by winning battles and collecting loot." The game is free but the player can buy in-game currency for virtual items in the game.
"Pokémon: Let's Go, Pikachu!" and "Pokémon: Let's Go, Eevee!" are similar except for their "stars." The two titles "feature many of the intuitive gameplay functions offered to players in the hugely popular 'Pokémon Go.'" Both games are set in the Kanto region, the locale of the original Game Boy titles. For both titles, Nintendo is also offering a Pokéball Plus, a motion controller that can be used to capture Pokémon with "players … able to feel it moving within the device."