Niantic, the company that released "Pokémon Go," just acquired Matrix Mill, a U.K.-based computer vision/machine learning startup, with the goal of expanding its augmented reality capabilities. Niantic chief executive John Hanke also stated that the company this year will release a "major update" to its "Ingress" game as well as a new AR game, "Harry Potter: Wizards Unite," and reveal additional games in the next few weeks. At an event, developers and journalists were able to try out the platform powering these games.
Variety reports that Matrix Mill chief research scientist Gabriel Brostow said that some of the company's work "has been around occlusion, or making AR objects blend more naturally into real-world environments." The "special sauce," he said, is "lots of good training data."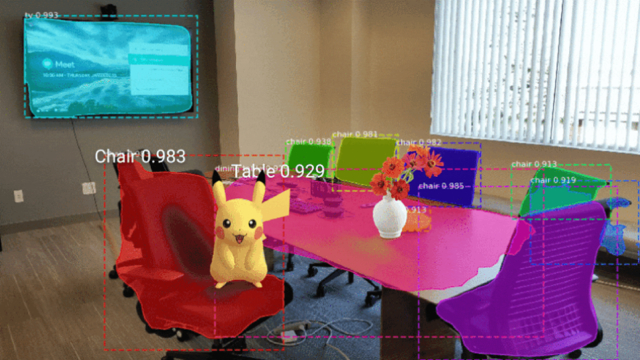 Niantic chief scientist Hansong Zhang explained the company is also working on AR object recognition, creating a "vocabulary" of common objects. "Without understanding of the world, it's like you're blindfolded," he said. "The larger the vocabulary, the richer AR will be."
Journalists tried out "one of the demos Niantic engineers have been developing internally, a multiplayer AR game code-named 'Neon'." Gamers sync up their phones, collect "glowing orbs that are added [to] the AR camera view of their phone," and then use them to battle rivals.
According to Niantic AR platform manager Diana Hu, the game is powered by low-latency P2P networking that lets the phones connect with a latency of less than 10 milliseconds, versus the 100 milliseconds or more experienced with "typical cloud-based gameplay." The demo relied on Wi-Fi but Hu said it could also use cell towers.
The game developer is launching the Niantic Real World Platform in an effort to "model reality." According to the Niantic Labs blog, "We think of the Niantic Real World Platform as an operating system that bridges the digital and the physical worlds. Building on our collective experience to date, we are pushing the boundaries of geospatial technology, and creating a complementary, interactive real-world layer that consistently brings an engaging experience to users."
Niantic is working on "perfecting its own mapping data to build more powerful AR experiences," notes Variety. After it was spun out of Google in 2015, Niantic originally worked with Google Maps data, but AR research lead Ross Finman said "this wasn't enough to build AR experiences around public places that aren't necessarily meant for commuting," noting that traditional maps are "largely static" and are updated "every few months at best."
The best AR, he said, requires "a highly accurate live model of the world." For that, Niantic "is using all of its users to continuously update its own mapping data," although Finman didn't specify the kind of data the company is collecting. What all of this means for the upcoming AR games, however, is "pretty much anyone's guess at this point," says Variety.
TechCrunch digs deeper into Niantic's efforts to place AR rendered objects convincingly behind real-world objects. Matrix Mill, which was born out of a University College London lab in 2017, has a tool that is "a big step forward in realism." The tool, dubbed Monodepth, "takes data from a single RGB camera, passes it through a neural network and spits out depth data fast enough to be integrated into a real-time game." No word, however, on when it "might actually make its way into 'Pokémon Go'."
Topics:
Augmented Reality
,
Computer Vision
,
Diana Hu
,
Gabriel Brostow
,
Google
,
Google Maps
,
Hansong Zhang
,
Harry Potter: Wizards Unite
,
Ingress
,
John Hanke
,
Machine Learning
,
Mapping
,
Matrix Mill
,
Monodepth
,
Neon
,
Neural Network
,
Niantic
,
Niantic Real World Platform
,
Object Recognition
,
Occlusion
,
P2P
,
Pokémon Go
,
Ross Finman
,
University College London
,
Video Games
,
Wi-Fi