The Video Electronics Standards Association (VESA) has developed a new standard to enhance the resolution display of laptops and all-in-one PCs. VESA's improvement to its Embedded DisplayPort (eDP) from version 1.4 to 1.4a will enable laptops and desktops to support images at a 7680 x 4320 resolution. As of now, 8K displays have only existed on high-end TVs but VESA anticipates the technology will be supported by computers, mobile phones and tablets in the coming years.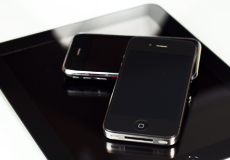 VESA's Embedded DisplayPort (eDP) 1.4a has a "bandwidth of 8.1 gigabits per second per lane which, with up to four lanes, translates to a theoretical maximum of 32.4Gbps," Digital Trends reports. The better resolution stems from an improvement to the speed of the video transfer rates.
While the technology could work for mobile phones and tablets, it may prove too costly for manufacturers to adopt, especially since the 8K resolutions on smaller screens can be undetectable. PC World explains that on a smaller scale, it can be difficult to differentiate between pixels.
However, an additional advantage of the tech is that it "could improve battery life by reducing display circuitry and improving processing of pixels," PC World reports. The new eDP 1.4a could be available in computers and mobile phones as early as next year with enough time for hardware makers to build and design devices that can make use of the technology.
Related:
VESA's Embedded DisplayPort 1.4a Spec Paves Way For 8K Notebooks, Improved Battery Life, Hot Hardware, 2/12/15