Apple's HDTV, which has reportedly been in development for years, is expected to finally debut later this year. While meeting with supply chain sources in China and Taiwan, Topeka Capital Markets analyst Brian White has gathered information from unnamed sources that suggest Apple will launch its iTV in the second half of 2013. White says innovative new features of the HDTV could make it a game-changer.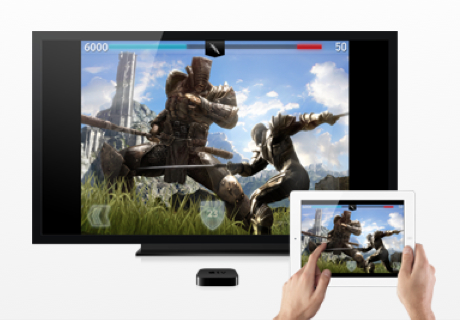 "Our meeting with an [sic] tech supply chain company suggests to us that a full blown Apple 'iTV' will launch in the latter part of 2013," White wrote to investors yesterday. "Clearly, there has been plenty of misguided speculation around the timing of the Apple's 'iTV' launch and we believe that this is largely due to changes by Apple, most recently around the creation of entirely new user interface aesthetics."
BGR posted some interesting predictions from White's report:  "The 'iTV' ecosystem represents a major innovation for the $100 billion LCD TV industry that will revolutionize the TV experience forever, in our view. First of all, we believe 'iTV' will be 60-inches in size (but could also include 50-55 inch options). Secondly, we believe Apple will release a miniature device called 'iRing' that will be placed on a user's finger and act as a navigation pointer for 'iTV', enhancing the motion detection experience and negating some of the functionality found in a remote."
"Thirdly, 'iTV' will come with a 'mini iTV' screen that will seamlessly allow users to view content on this smaller, 9.7-inch screen, while also opening up use cases around home security, phone calls, video conferencing and other areas. As part of this experience, Siri and FaceTime will be important," adds the report. "Furthermore, we believe 'iWatch' will be an important part of the 'iTV' ecosystem… The interaction between 'iTV' and making phone calls will be an important feature of this experience, while the 'iWatch' and 'iRing' will provide increased mobility around the home."
In his report, White suggests a price point of approximately $1,500 to $2,500 for the iTV package, depending on screen size and the number of mini iTV screens.
"You never want to say 'never' with Apple, but this report just seems a bit far-fetched," suggests Business Insider in a related post. "The part we're struggling with is the 'iRing' and the mini Apple TV being included."
Topics:
Apple
,
Apple TV
,
Brian White
,
FaceTime
,
HD
,
HDTV
,
iRing
,
ITV
,
iWatch
,
LCD
,
LCD TV
,
Siri
,
Television
,
Topeka Capital Markets
,
TV