As the battle heats up with tech companies over artificial intelligence and digital assistants, SoundHound released an app this week called "Hound" that promises to enhance voice search with its ability to quickly and efficiently handle complex questions. According to Keyvan Mohajer, SoundHound founder and chief exec, Hound has a leg up on the competition since it performs voice recognition and natural-language processing in a single step, as opposed to translating speech to text and then performing a search using that text.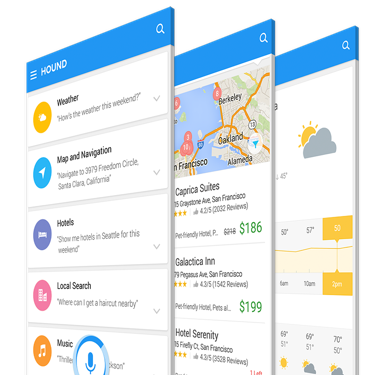 "Mohajer says multiple steps can take longer (by mere seconds, mind you) and can increase error rates," reports The Wall Street Journal. "The app can instantly process even comically long queries."
"People can wake the app by saying 'OK Hound' or by pressing a button in the app, and then ask questions involving a wide range of subject matter, such as reference, navigation, weather and local business," explains WSJ. "If Hound doesn't know the answer, it will kick users to Web-search results."
The app will take on similar services including Apple's Siri, Google Now and Microsoft's Cortana. However, Hound is only available in English for Android devices to start. According to the SoundHound site, an iOS version is "coming soon."
A short video demo of Hound is available on YouTube.
Topics:
Android
,
App
,
Apple
,
Artificial Intelligence
,
Cortana
,
Digital Assistant
,
Google
,
Google Now
,
Hound
,
Internet
,
iOS
,
Keyvan Mohajer
,
Microsoft
,
Natural Language Processing
,
Navigation
,
Search
,
Shazam
,
Siri
,
SoundHound
,
Speech-to-Text
,
Translation
,
Voice
,
Voice Recognition
,
Voice Search
,
Weather
,
YouTube