Ericsson and Cisco Systems, leaders in mobile and Internet equipment respectively, are forming an alliance to beat back the competition, enjoy synergies in the mobile market and target the growing fields of Internet of Things and 5G. The alliance isn't a merger, but in many ways acts like one: Ericsson and Cisco plan to integrate their existing equipment, combine some sales and consulting areas and perhaps develop new hardware and services. Competitors include Chinese company Huawei and Nokia, which just bought Alcatel-Lucent.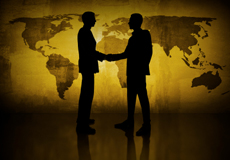 According to The Wall Street Journal, both companies are dealing with "a slowdown in the smartphone market, a longtime driver of revenues for the telecom companies that are their biggest customers." With Nokia's purchase of Alcatel-Lucent (for $16.8 billion), Cisco and Ericsson hope to match those companies' combined expertise in wireless and Internet technologies, says Sanford C. Bernstein analyst Pierre Ferragu.
The companies didn't choose to merge, says Cisco chief executive Chuck Robbins, because neither party believes they "typically work." The alliance, which comes after 13 months of negotiations, is projected to add $1+ billion in annual sales for each company by 2018.
"This is a much more agile and efficient choice," says Ericsson chief executive Hans Vestberg. WSJ says analysts "don't expect formal reviews by antitrust authorities," but that governments are likely to take a closer look, as part of a trend of closely monitoring equipment seen as "high sensitive for security and privacy reasons."
The alliance will enable both companies to tackle changes at telecom carriers; Cisco's software will integrate nicely with Ericsson's billing and operation gear, and the two companies are "expected to complete a patent cross-license agreement under which Cisco would pay an unspecified amount to Ericsson for use of its patents," given that Ericsson has 37,000 patents to Cisco's 19,000.
Together, the companies are also expected to delve into the Internet of Things. The new partnership is also likely to help the companies compete in the upcoming 5G mobile broadband market.
Topics:
5G
,
Alcatel-Lucent
,
Antitrust
,
Broadband
,
China
,
Chuck Robbins
,
Cisco
,
Ericsson
,
Hans Vestberg
,
Huawei
,
Internet
,
Internet of Things
,
IoT
,
Licensing
,
Mobile
,
Nokia
,
Patents
,
Pierre Ferragu
,
Privacy
,
Sanford C. Bernstein
,
Smartphone
,
Telecoms
,
Wireless