The 4DX theater at L.A. Live experienced high ticket sales this summer. Viewers came to check out the first theater of its kind in the U.S., which provides audiences with the opportunity to experience rumbling and jerking seats, and spray, smoke and other effects that are synchronized with the on-screen action. Despite a weak summer box office across the country, the 4DK theater was filled to capacity on weekends and had an unusually high occupancy rate for weekdays, with higher ticket prices generating impressive revenues.
The 4DX theater was very popular with audiences at almost any time of the day or week. While most traditional theaters only fill to 10 or 15 percent capacity, the 4DX theater averaged a 63 percent occupancy rate.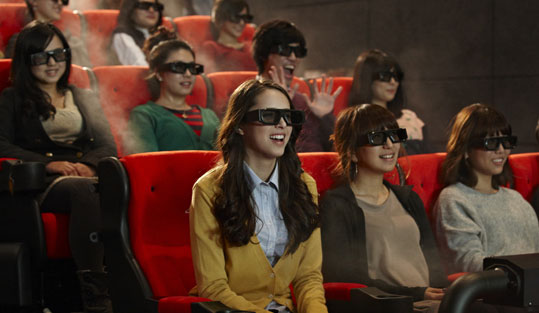 With those kinds of crowds and a $22 ticket price, the 4DX theater was outperforming other theaters all summer in terms of revenue. For example, "Dawn of the Planet of the Apes" made over $94,000 at the 4DX location in its first 13 days. In comparison, the industry average was only about $38,000.
Even for movies that did not do well this summer, the 4DX theater performed 248 percent better than those that had disappointing box office numbers in traditional theaters.
CJ 4DPlex is the South Korean-based company that provides the technology for 4D theaters around the globe. The company is currently in talks to outfit more locations with the technology.
"There was certainly the 'new kid in town factor,' but we've seen in other territories that we have three to four times the occupancy rates of most theaters," Angela Killoren, chief marketing officer of CJ 4DPlex America, told Variety.