The San Francisco 49ers are set to open a new stadium for the 2014 NFL season. When the Santa Clara Stadium opens, it will feature the best publicly accessible Wi-Fi network of any sports facility in the country. Every single one of the potential 68,500 fans will be able to connect to the wireless network at the same time, with no limits on uploads or downloads. Until now, such a feat was thought to be impossible.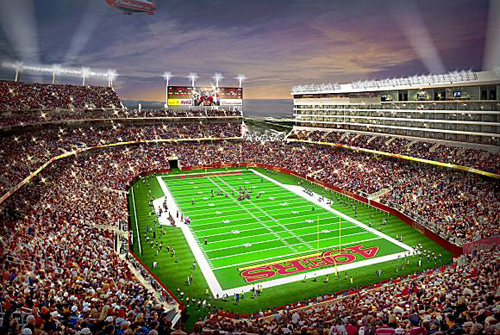 "Even if you build the network perfectly, it would choke if every fan tried to get on at once — at least according to conventional wisdom," writes Ars Technica. "But the people building the 49ers' wireless network do not have conventional sports technology backgrounds. Senior IT Director Dan Williams and team CTO Kunal Malik hail from Facebook, where they spent five years building one of the world's largest and most efficient networks for the website. The same sensibilities that power large Internet businesses and content providers permeate Williams' and Malik's plan for Santa Clara Stadium, the 49ers' nearly half-finished new home."
At this year's Super Bowl in the New Orleans Superdome, a network allowed as many as 30,000 fans to get online at once. "This offloaded traffic from congested cellular networks and gave fans the ability to view streaming video or do other bandwidth-intensive tasks meant to enhance the in-game experience."
That 30,000-fan limit worked well this year, "but as more fans bring smart devices into stadiums, activities like viewing instant replays or live camera angles available only to ticket holders will become increasingly common. It'll put more people on the network at once and require bigger wireless pipes. So if Williams and Malik have their way, every single 49ers ticket holder will enjoy a wireless connection faster than any wide receiver sprinting toward the end zone," explains Ars Technica.
These impressive capabilities have a lot to do with the location of the wireless access points. "According to Williams, most current stadium networks are limited by a fundamental problem: sub-optimal location of wireless access points," according to the article.
"A typical layout is overhead, one [access point] in front of the section, one behind the section, and they point towards each other," Williams said. "This overhead design is widely used and provides enough coverage for those using the design." 
"The access points will be spread and distributed. It's really the best way to put it. Having your antennas distributed evenly around fans," Williams continued. The 49ers are testing designs in Candlestick Park and experimenting with different access points in a lab. The movement of fans and the impact of weather on Wi-Fi performance are among the factors under analysis, details the article.
Topics:
49ers
,
Access Points
,
Candlestick Park
,
Facebook
,
Football
,
Network
,
NFL
,
San Francisco
,
Santa Clara
,
Smart
,
Smartphone
,
Sports
,
Stadium
,
Super Bowl
,
Superdome
,
Tablet
,
Wi-Fi