Regulatory pressure continues to build against TikTok and the company's Beijing-based owner. Another state has joined the federal fight to ban the short-form video app, with Virginia this month passing legislation prohibiting TikTok and WeChat from use on state government devices. Meanwhile, on Thursday Senators Richard Blumenthal (D-Connecticut) and Jerry Moran (R-Kansas) wrote Treasury Secretary Janet Yellen — who also chairs the Committee on Foreign Investment in the U.S. — advising CFIUS  to "impose strict structural restrictions between TikTok's American operations and its Chinese parent company, ByteDance, including potentially separating the companies."
Blumenthal is the new chair of the Senate Judiciary subcommittee on privacy, while Moran sits on the Senate Select Committee on Intelligence. Their joint letter claims that TikTok's data collection capabilities combined with algorithms that can promote or suppress certain posts is worrisome.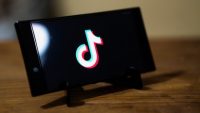 The Virginia legislation was led by Republican state senator Ryan McDougle, who on Yahoo News called TikTok "invasive" and said it is "voraciously collecting data on its users in the United States," adding that "TikTok is an arm of the People's Republic of China and operated under its direction."
CNBC says the senators' letter to Yellen has heightened pressure on the CFIUS panel as it reviews potential national security risks presented by TikTok, pressing it to speedily "wrap up its investigation of the popular video-sharing app and impose strict restrictions on whether and how the company can continue to operate in the U.S."
The letter cited media reports "finding TikTok employees had spied on American journalists and leaked internal audio that showed China-based ByteDance employees accessed U.S. user data," CNBC says, noting that "ByteDance fired four employees who it said improperly accessed the information on U.S. journalists."
ByteDance counters that it does not store U.S. user data in China and that its security measures are continually tested. The company has recently gone on the offensive in pressing its case with U.S. regulators. But that has not stopped a rising chorus of complaints and calls for action.
Department of Justice deputy attorney general Lisa Monaco voiced criticism Thursday. Speaking at a technology event in London, Monaco told the crowd "I don't use TikTok and I would not advise anybody to do so," due to "the perils of Chinese companies being subject to Chinese national security laws," according to CNBC.
Topics:
App
,
Beijing
,
ByteDance
,
CFIUS
,
China
,
Department of Justice
,
Government
,
Janet Yellen
,
Jerry Moran
,
Journalism
,
Legislation
,
Lisa Monaco
,
London
,
National Security
,
Privacy
,
Richard Blumenthal
,
Ryan McDougle
,
Security
,
Senate
,
Short-Form Video
,
Social Media
,
Spying
,
TikTok
,
Video
,
Virginia
,
WeChat