At the Sundance Film Festival, the latest in virtual reality appears at the New Frontier, the Sundance Institute's showcase for virtual reality, immersive cinematic works, and media lab innovations. 2016 is no exception, and the buzz is already out about some of the must-see virtual reality movies and experiences. Among them, "The Wasteland" from 8i is one recommendation. Other notable VR experiences at Sundance include "American Bison," "Kiya" and "Wave of Grace."
"The Wasteland" places viewers into a post-apocalyptic desert besides a female warrior as a hacked-together dune buggy drives up.
Wired recounts that what makes "The Wasteland" so notable is how the desert was created. Typically, the artist would have had to render the desert setting (and dune buggy) in CG, motion-capture the actors and then use the mo-cap performance to drive the CG characters.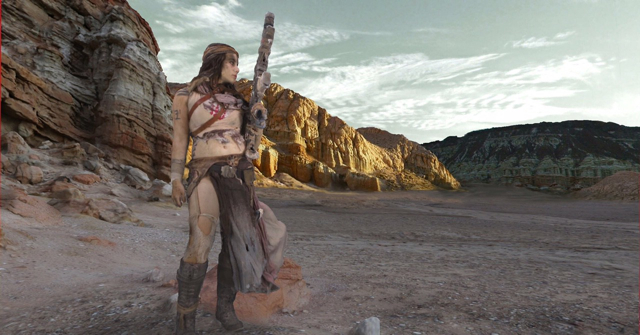 With 8i's technology, the filmmakers capture performances with off-the-shelf cameras and then place the characters in pre-existing environments. The result is "volumetric VR," a 3D virtual reality that the user can navigate.
8i chief executive Linc Gasking says, the result is an integration of a human "recorded in real life, completely dressed and acting," with a CG element (the dune buggy), "and a photographic environment that was a real place."
For the first time, he says, storytellers can finally put realistic humans into VR. 8i is bringing four virtual reality projects to Sundance, as part of its #100humans project.
Other companies, including Lytro and Uncorporeal, are working on volumetric VR capture but, says Wired, "8i is the only one confirmed to be bringing multiple experiences to Sundance."
8i isn't positioning itself as a VR production company, nor is it recommending any specific hardware (i.e., cameras). What it brings to the party is software that "allows VR experiences to come together much more quickly and easily than they would if they were mo-cap performances," including putting actors shot against greenscreen into digitally rendered environments.
The New York Times interviewed four filmmakers whose VR work is also at Sundance. Danfung Dennis is bringing "American Bison," in which he places a prototype VR camera among a herd of wild American bison. Nonny de la Peña's "Kiya" tells the story of a domestic violence homicide, and Gabo Arora and Chris Milk's "Wave of Grace" focuses on a woman who survived Ebola.
All of the filmmakers talk about the "strong presence" of their VR characters. "I found that I cared about this bison in a much deeper way than I had before," said Dennis. "In VR, we instinctively feel a surge of empathy for those whose experiences we are immersed in."
Arora and Milk agree. "A physical force that radiates from her, detectable only by humans' sixth sense: empathy," they said. "After we met her, we realized that telling her story wouldn't just be better in VR. It was only wholly tellable in VR."
Topics:
3D
,
8i
,
American Bison
,
Cameras
,
CG
,
Chris Milk
,
Danfung Dennis
,
Gabo Arora
,
Kiya
,
Linc Gasking
,
Lytro
,
Motion Capture
,
Movies
,
New Frontier
,
Nonny de la Pena
,
Presence
,
Production
,
Storytelling
,
Sundance Film Festival
,
Sundance Institute
,
The Wasteland
,
Uncorporeal
,
Virtual Reality
,
Volumetric Capture
,
VR
,
Wave of Grace