Some traditional watch companies are taking a different approach to the wearables market than the tech companies that have joined the competition in recent years. Instead of manufacturing smartwatches with all of the bells and whistles of today's smartphones, traditional watchmakers like Fossil are making wearables that look more like traditional analog watches. These devices only have basic fitness tracking and notification features, but they may be the key to helping wearables go mainstream.
One of the problems with smartwatches is that people still don't know what to use them for. A wearable makes sense as a fitness tracker and notification center, but consumers still aren't sure whether they want to make phone calls or book flights from their wrist.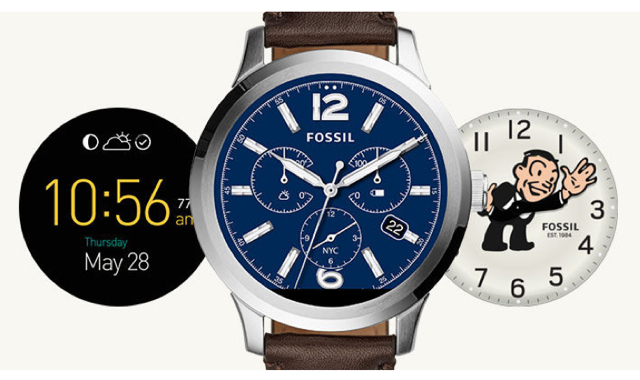 Fossil is betting that the best way into consumers' hands is by starting with the simple functions. The company plans to release 100 connected bracelets and watches over the next year, according to The Verge.
Many of Fossil's wearables are not made to look like tiny smartphones. The Q Dreamer fitness bracelet looks more like a fashion accessory with its leather straps and metal component. The Q Grant and the Q54 Pilot are traditional watches that pair with smartphone apps to track fitness and control notifications.
Even the more advanced Q Founder Watch from Fossil maintains the classic stainless steel watch look. The difference is that this watch has a full touchscreen, voice controls, and other benefits of running the Android Wear platform. The Q Founder is cheaper than smartwatch models from Apple, Huawei, and Motorola, but it's also clunky and has a low-resolution screen. Otherwise, it performs just like a smartwatch and looks just like a regular watch.