MovieCoin, which describes itself as "a next-generation financial technology company … [that] leverages blockchain technology, digital assets and proprietary applications" for the media and entertainment industry, has just launched its public presale. The presale, with a hard cap of 10,000 Bitcoin (BTC), follows a private presale that reached its soft cap of 2,000 BTC. The company will accept Ethereum (ETH), Bitcoin and Bankex (BKX) tokens during this public presale period. The minimum commitment is 5 BTC or equivalent.
VentureBeat reports that, according to chair/chief executive Christopher Woodrow, "MovieCoin comprises content financing and production, business and consumer services, and technology development and licensing."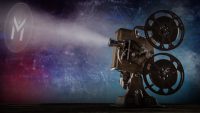 "The content financing and production business offers ownership of filmed entertainment assets to financial investors seeking institutionalized, programmatic access to financing of premium content," he added. "Our team of seasoned Hollywood media executives will source and qualify commercial feature film and entertainment investment opportunities."
Woodrow is a veteran Hollywood figure, having financed and produced films whose box office exceeds $700 million worldwide, including "Black Mass," "Hacksaw Ridge" and "Birdman." He explained the benefits of blockchain over traditional funding. "In the context of film and entertainment, crowdfunding is a niche technique that fits into a particular set of circumstances," said Woodrow. "With the help of Bankex, our application of blockchain technology and tokenization can change the world on a much larger scale compared to traditional technology solutions."
The MovieCoin Smart Fund, he added, is a "financing program established to finance and own a portfolio of wide-release, feature-length major motion pictures." MovieCoin Smart Fund (MSF) tokens are used to fund content production on the MovieCoin platform, enabling investors to partake in film financing at a lower cost than traditional financing models. Woodrow noted that another benefit of MSF tokens is "new levels of liquidity to a traditionally illiquid space."
"Typically, film financing investments require long contractual arrangements or membership interests in privately held companies," he explained. "MSF tokens, on the other hand, provide a means of secondary trading, where financiers can trade their stake at market value."
Blockchain's transparent distributed ledger also allows investors to "track how assets and capital are used simultaneously, adding speed to an industry known for complex accounting practices and prolonged payment cycles," added Woodrow. Similar to crowdfunding, MSF tokens allow "users to stake a claim in the industry at a lower level than before," and could also be used "to purchase movie tickets and other entertainment offerings."
9/21 UPDATE:
MovieCoin provided the following updates 9/21…
MovieCoin tokens are being sold out of the Cayman Islands.
MovieCoin's presale is for its MOV utility token only.
The MOV utility token is not for sale to people in the U.S. or Canada.
MovieCoin Smart Fund (MSF) Security Tokens are not part of this presale; they will be offered separately to accredited investors only (pursuant to Regulation D of the United States Securities Act and National Instrument 45-106 – Prospectus Exemptions).
For more information, check out the press release.