At the recent Mobile World Congress in Barcelona, there was a clear message sent by the GSMA, the congress's organizing body: Near Field Communication (NFC) might finally be ready to have its day. That message may be hard to believe, considering NFC has been on the cusp of breaking through for nearly a decade and still has yet to achieve mainstream adoption. However, the technology was everywhere at this year's MWC.
"If you had the right phone you could bypass the entrance queues with an NFC-powered 'badge' on your phone," writes the Wall Street Journal. "The halls were strewed with NFC-powered 'smart' posters that would unlock all manner of hidden secrets if you tapped them with your smartphone, from restaurant information to directions to the nearest restrooms."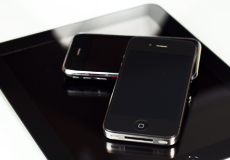 Additionally, "there were demonstrations that allowed you to play music on headphones, test if products were genuine or counterfeit, or that let you replace your car keys or your house keys with just your phone," all with NFC technology, reports WSJ.
The technology, which is a contactless radio technology that can transmit data between two devices that are within proximity to each other, promises to transform consumer experiences like ticketing and payments and more.
So is it really going to happen now? "Certainly things appear to be moving in the right direction for NFC," suggests the article. "Analysts ABI Research predict that 1.95 billion NFC-enabled devices will ship in 2017, the lion's share of which will be smartphones." According to Reed Peterson, the head of business and market development for GSMA, "there are 150 million NFC devices right now. By 2014 there will be 300 million. NFC handsets? We think that problem has been solved."
He says that because nine of the top 10 handset makers have NFC-enabled devices. And both Android and Windows Phone operating systems support the technology. Apple is the significant outlier, having not yet embraced the technology.
But according to a 2012 report by Forrester Research, "we don't believe the majority of consumers will use mobile contactless payments before the end of the decade, even in the most developed countries."
"There are several reasons for their skepticism," notes the article, "including a lack of devices, a lack of a clear business case, to the fact that 'for now, mobile contactless payments provide only marginal improvements to established systems like cash and credit/debit cards… the overall user experience throughout the purchase and payment process isn't necessarily simpler, safer, or cheaper.'"
Topics:
Android
,
Apple
,
Barcelona
,
Credit
,
Debit
,
Forrester Research
,
Google
,
GSMA
,
iOS
,
Mobile
,
Mobile World Congress
,
MWC
,
Near-Field Communication
,
NFC
,
Phone
,
Smartphone
,
Tablet
,
Windows