Zoom Video Communications skyrocketed when the coronavirus pandemic necessitated remote working and learning. But Microsoft doubled down on creating competitive features for Microsoft Teams, and then promoting its videoconferencing and collaboration software to companies and organizations in need. When Zoom was temporarily sidelined by security issues, Microsoft saw its opportunity to step in. In New York City's school district, for example, Microsoft established 110,000+ Teams while Zoom usage was on pause.
The Wall Street Journal reports that, "the pandemic has supercharged a battle over the future of business computing, pitting Microsoft against a growing list of rivals." Chief executive Satya Nadella declared Teams will be "a new operating system that would serve as a hub for the company's more famous products such as Word, Excel and PowerPoint." Companies that pay for Office 365 also get Teams.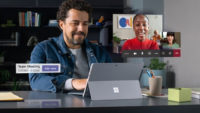 Competitors Slack and Zoom have free versions, with business-centric paid versions starting at $6.67 per person per month on Slack and $14.99 per host per month on Zoom.
As competition has heated up, "some rivals say Microsoft has deployed sharp-elbowed business tactics." "They want to kill us, as opposed to have a great product and make customers happy," said Slack chief executive Stewart Butterfield. Microsoft 365 corporate vice president Jared Spataro said simply, "we intend to compete and win."
In April, Microsoft said that, "Teams had grown to 75 million daily users, more than double its early March figure … [and] on one day, it logged 4.1 billion meeting minutes." In the same month, Zoom "had 300 million daily participants across its paid and free services … up from 10 million at the end of last year."
Slack had a 40 percent increase in customer growth halfway through its quarter, compared with the prior two quarters. Facebook also debuted Messenger Rooms and, on April 29, Google made Google Meet, its videoconferencing tool, free to all.
Bloomberg reports that Zoom sales skyrocketed in the quarter ending April 30, and the company "expects the trend to continue the rest of the year and projected that revenue and profit will leapfrog investors' earlier expectations." "A shift in work culture triggered by the COVID-19 pandemic urges corporations to pull forward adoption of cloud-based videoconferencing tools," said Bloomberg Intelligence analyst Boyoung Kim.
Zoom suggested that "sales in the current quarter will be as much as $500 million," and chief financial officer Kelly Steckelberg noted that "revenue in the third and fourth fiscal quarters should be consistent with that performance." For this fiscal year, Zoom expects "to generate as much as $1.8 billion … which is almost triple the size of the business last year." According to data compiled by Bloomberg, "analysts, on average, estimated $930.8 million."
Zoom also stated that, "its potential market has expanded beyond an estimate of $43 billion by 2022 made by analyst IDC, according to a 2019 regulatory filing." The company has 769 corporate clients "that have spent more than $100,000 on Zoom's products over the last 12 months, about double from a year earlier."
Steckelberg said the company "will sell its Phone software and Rooms hardware products to existing customers, while chief executive Eric Yuan "vowed not to rely on advertising to make money from its legions of free users."
Topics:
Bloomberg Intelligence
,
Boyoung Kim
,
Coronavirus
,
COVID-19
,
Eric Yuan
,
Excel
,
Facebook
,
Google Meet
,
IDC
,
Jared Spataro
,
Kelly Steckelberg
,
Messenger Room
,
Microsoft
,
Microsoft 365
,
Microsoft Teams
,
PowerPoint
,
Remote Work
,
Satya Nadella
,
Security
,
Slack
,
Stewart Butterfield
,
Videoconferencing
,
Word
,
Zoom