Microsoft is joining Apple, Fitbit, musician will.i.am and others gearing up to offer new smartwatches. Microsoft's wearable — a smartwatch that will track your heart rate, work across different mobile platforms, and run for more than two days of regular use before needing a charge — is expected to launch in the next few weeks. A name for the device or its retail cost is not yet known. Microsoft joins a growing field as the wearable tech market is forecasted to be worth $7.1 billion as early as next year.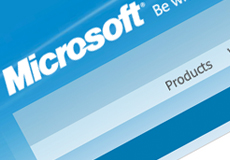 The watch will mark Microsoft's first exploration of a new device category under CEO Satya Nadella, who has been pushing for Microsoft products to work across all devices. In March, the company made Microsoft Office available for the iPad. The new watch is expected to synch with devices running several mobile platforms including iOS and Android.
"With a battery that lasts more than two days, Microsoft could get a leg up on big-name competitors who have entered the wearables space," reports Forbes. "Battery life is frequently cited as one of most important factors that consumers consider when buying a smartphone, yet the topic was conspicuously glossed over at Apple's Watch announcement last month."
Apple CEO Tim Cook now says his company's watch will need to be charged every night, which is also the case with Samsung's Galaxy Gear and Motorola's Moto 360.
"Some wearables like the Pebble and Jawbone Up24 boast batteries that last for days or even weeks at a time, but that becomes impossible when a device features a color display like the Apple Watch or Gear," notes Forbes.
"Microsoft seems to be focused on one of the key selling points that other players in the crowded smartwatch arena have already seized upon: health," according to CNET. "Samsung's Gear S — its sixth smartwatch launch in the past year — was unveiled in August and includes a heart rate monitor, pedometer, and sleep tracking."
The highly anticipated Apple Watch, unveiled last month and expected to hit shelves in early 2015, connects with apps that track a user's heart rate, calories burned, and various fitness activities.
Related Stories:
This is the Fitbit Surge, a $250 'Superwatch' with Built-In GPS, The Verge, 10/19/14
Will.i.am Unveils New Smartwatch with Streaming Music Service, ETCentric, 10/20/14
Apple Announces Two New iPhones, Smartwatch and Apple Pay, ETCentric, 9/10/14
Topics:
Android
,
Apple
,
Apple Watch
,
Battery Life
,
Fitbit
,
Fitbit Surge
,
Fitness
,
Galaxy Gear
,
Google
,
GPS
,
Health
,
iOS
,
iPad
,
Jawbone Up24
,
Microsoft
,
Microsoft Office
,
Mobile
,
Moto 360
,
Motorola
,
Pebble
,
Pedometer
,
Samsung
,
Satya Nadella
,
Smartphone
,
Smartwatch
,
Streaming Music
,
Tablet
,
Tim Cook
,
Wearable
,
will.i.am